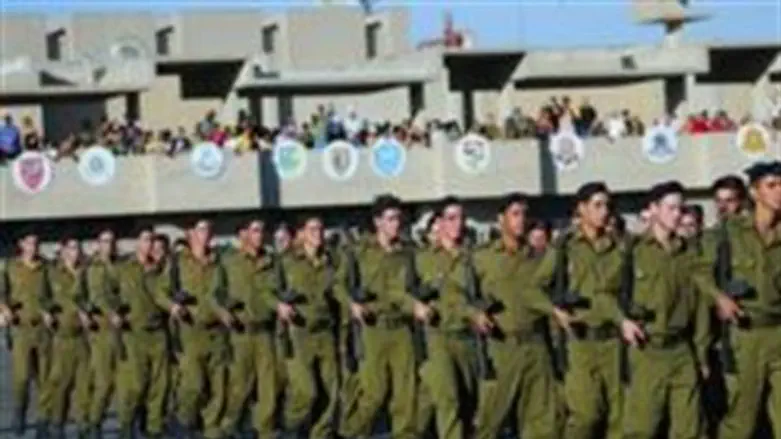 IDF training course
Israel news photo: IDF
An IDF reservists' group called "My Israel" is calling on soldiers to sign a petition not to participate in future terrorist swaps that would free murderers with blood on their hands.
The move comes following the release of 477 terrorists, including many fulfilling exactly such criteria, as part of a prisoner exchange deal to free kidnapped IDF soldier Gilad Shalit, held hostage for more than five years by the Hamas terrorist rulers of Gaza. Shalit was freed last week in the first phase of the two-part exchange, which will eventually free 1,027 Palestinian Authority inmates of Israeli prisoners, including many murderers serving multiple life sentences who immediately vowed upon their release to renew their terrorist careers as soon as possible.
The petition, which can be found on the group's website, urges the government not to ever agree to a prisoner swap that frees terrorists with blood on their hands.
Signatories on the petition agree not to participate in such a swap if they are ever, G-d forbid, captured or kidnapped in future action.
"We demand [the government] not release murderers, also at the price of our own personal lives," clarified the reservists.
My Israel chairperson Ayelet Shaked and David Tzviel, who initiated the petition, said the campaign is intended to facilitate the efforts of decision makers who might in future be faced with the need to negotiate for the release of Israeli soldiers in captivity.
"When soldiers and reservists say they are ready to bear on their shoulders the burden of [defending the nation], even the terrible suffering [if] captured by the enemy, to save Israel from the terrible danger posed to the country due to the release of terrorists -- the State of Israel can't avoid expressing a firm, resolute and clear stance against the terrorist organizations in this matter," said the two.
The petition may be signed, and names of other participants may be seen at the organization's website, by clicking here.