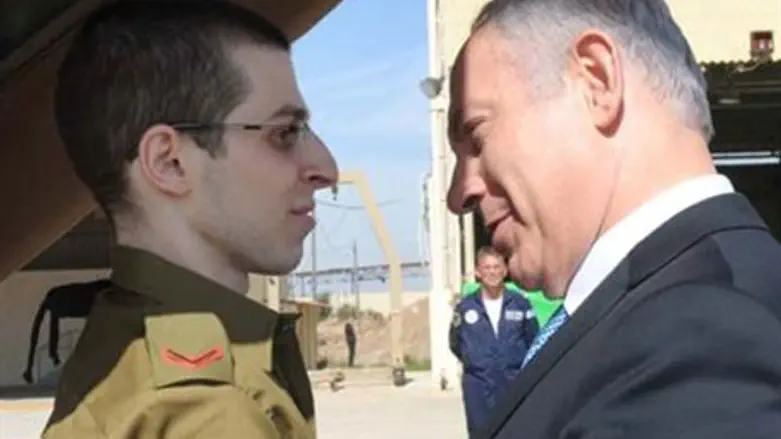 Bibi Welcomes Gilad
IDF Photo
A teary-eyed Israel, headed by the Shalit family, welcomed Gilad back home to Israel Tuesday after 1,941 days in captivity at the hands of Hamas and allied terrorists, some of whom continued to urge more kidnappings. He is undergoing medical tests before returning to his family home in the Galilee.
The soldier, who had changed into an IDF uniform, met his parents at the Tel Nof Air Force base near Tel Aviv after being initially received by Prime Minister Binyamin Netanyahu, Defense Minister Ehud Barak and IDF Chief of Staff Benny Gantz.
The happiness, considered the fulfillment of the mitzvah of bringing back a Jew from captivity ,was mixed with the pain and fear that more Israelis will be murdered by the 1,027 terrorists and security prisoners who were freed in exchange for Shalit. That mitzvah hedged by halakha which is against redeeming a captive if it leads to more captives being taken.
In Gaza and Ramallah, thousands of Arabs wildly celebrated the return of the first batch of terrorists to Judea and Samaria. Others are to be deported.
Hamas leaders, including one of those released from jail, continued to call for more kidnappings of Israeli soldiers to gain the freedom of terrorists who were not included in the swap.
Yehiye Sinwar, who was freed by Israel after being sentenced for kidnapping and killing two soldiers, told Hamas television, "We shall spare no efforts to liberate the rest of our brothers and sisters. We urge the Al Qassam Brigades to kidnap more soldiers to exchange them for the freedom of our loved ones who are still behind bars".
Palestinian Authority Chairman Mahmoud Abbas showed willingness to unite with Hamas as he agreed to share the stage with the terrorist group's local leaders during a welcoming ceremony in Ramallah.
credit: דו"צ