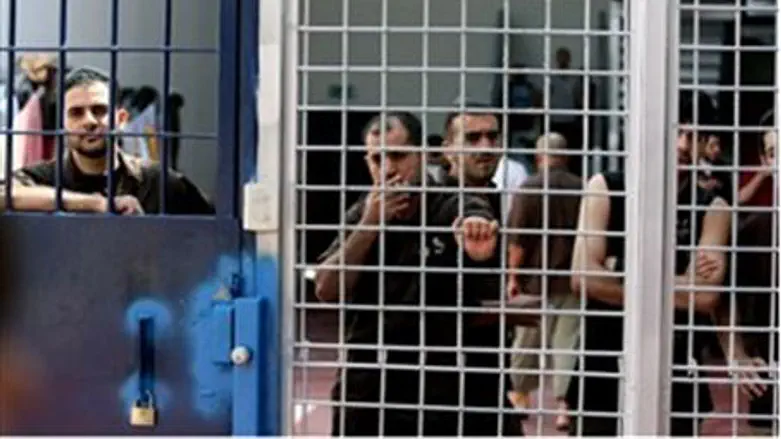 Terrorist prisoners
Israel news photo: Flash 90
The first list of 477 terrorists to be freed Tuesday for kidnapped soldier Gilad Shalit includes dozens serving 924 "life sentences" for murdering or organizing the murder of Jews.
The other terrorists were sentenced to a collective total of hundreds of years in jail, but all of them will see the light of day on Tuesday in the unprecedented exchange for Shalit, who is expected to arrive in Israel in Tuesday.
Hamas still might torpedo the arrangement with demands for the release of more terrorists, but heavy international pressure may prevent any attempt to abort the deal.
Among the terrorists to be freed, barring an unlikely successful appeal to the High Court by terror victims and their families are the murderers of Nachshon Waxman, Effie and Yaron Unger and Yosef and Hannah Dickstein.
Also to be released are those responsible for the massacres at the Dolphinarium in Tel Aviv  the Sbarro Restaurant in Jerusalem and the Park Hotel on the eve of Passover in Netanya.
Included on the list who will be allowed to return to their homes in Judea and Samaria or Jerusalem along with another 40 who may do so but are subject to limitations.
Among those to be freed are:
—      Idris Rajbi, involved in an attack that killed 22 Israelis;
—      Bassam Snineh, who  murdered a yeshiva student Kerman fourteenth;
—      Jihad Irmor, who  kidnapped and murdered Wachsman;
—      Husam Badran, one of those responsible for bombings at the Dolphinarium, Sbarro and the Park Hotel;
—      Abed Amro, a member of the terrorist squad that sent a suicide bomber to the Cafe Hillel in Jerusalem;
—      Omar Sarhan, the knife murderer of three Israelis in 1990; and
—       Fahd Lodi, involved in the kidnapping and murder of Israeli soldier Yaron Chen.