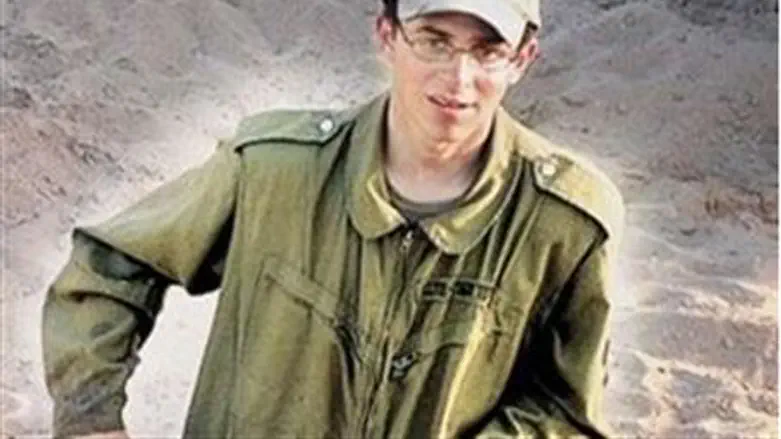 Gilad Shalit
Israel news photo: Flash 90
The deal between Israel and Hamas to release terrorists in exchange for Gilad Shalit will be implemented within 48 hours, the Cairo-based Al-Ahram newspaper reported on Wednesday.
According to the report, which was unconfirmed elsewhere, the exchange will take place in Cairo or somewhere between Cairo and Berlin.
A senior Egyptian security source told Al-Ahram that the Shalit deal was reached with Egyptian mediation and not with German mediation. The Egyptians, according to the report, hosted delegations from Israel and from Hamas that held indirect negotiations over the past three months.
David Meidan, the prime minister's special emissary for Gilad Shalit's return, made similar comments in a press briefing on Tuesday.
"Until July we didn't receive an answer from Hamas," he said. "The turning point occurred in July 2011, when we received, for the first time, a letter from Hamas in which it was written: a proposal to close the deal. We saw hope, took the Egyptians as an intermediary and they entered the talks between us and Hamas."
In a press conference on Wednesday, Israel Security Agency chief Yoram Cohen said that is not yet known to which countries the terrorists would be deported.
"Hamas has yet to arrange countries for the deportees," said Cohen. "It would be better for them to be outside of Gaza."
Cohen admitted that Israel will not be able to monitor whether one or more of the terrorists who will be released abroad will infiltrate into Gaza.
Under the first stage of the agreement, Israel will release 450 terrorists in exchange for Shalit. By the end of the second stage of the deal, to be completed by November, Israel will have released a total 1,027 terrorists in exchange for Shalit, whose physical and psychological condition remains unknown.
At the same press conference, Cohen reluctantly told reporters the deal "is the best deal possible."
"If there had been a better deal or viable military operation we would have chosen it," Cohen said. "I think this is a tough and difficult deal but it is the best deal for Israel from a security perspective. It is not simple to release 280 murderers. Hamas will be strengthened by this and Fatah will likely be weakened and this might even increase motivation for more attacks and kidnappings."
(Arutz Sheva's North American Desk is keeping you updated until the start of Sukkot in New York. The time posted automatically on all Arutz Sheva articles, however, is Israeli time.)