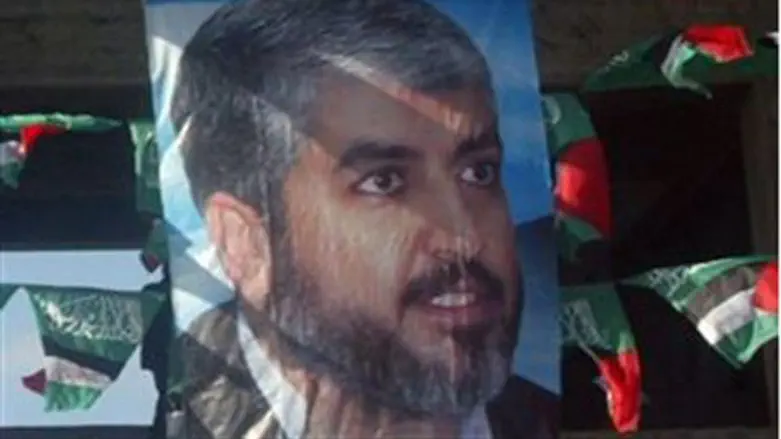 Khaled Mashaal
Israel news photo: Flash 90
Khaled Meshaal, the head of Hamas' political bureau in Damascus, said on Tuesday that the terrorists who will be released in the Gilad Shalit deal will "return to the struggle."
Meshaal said that as part of the deal with Israel, Hamas gave priority to the release of "heavy" prisoners, including ones from Judea and Samaria, Gaza and even Israeli Arabs.
"Tonight we won't go into detail," he said. "I know you all want to hear details, but tonight I am talking about our great national achievement. Palestinian blood is one and our responsibility for it is one. This is a national achievement. We all made sacrifices for this deal so we should all be proud."
Official details have not yet been released, but reports say that Israel will release at least 1,000 terrorists in exchange for Shalit, including some that belong to organizations other than Hamas.
Some reports on Tuesday evening said the terrorist will be released in two stages: 450 prisoners will be released before Shalit is released, and 550 will be released after he is returned to Israel.
Shalit will reportedly be transferred to Egypt and then taken by airplane to Israel.
Prime Minister Binyamin Netanyahu said on Tuesday that the deal to release Shalit is the best one that could be achieved at this time. The agreement was initialed on Thursday of last week, Netanyahu said, and was finalized on Tuesday.
Speaking at the start of the cabinet meeting, Netanyahu said that earlier on Tuesday, he invited Gilad's father, Noam Shalit, to his home, and also spoke on the phone with his mother Aviva and grandfather Tzvi.
"This morning I told the parents and grandfather of the abducted soldier: I kept my promise and I am returning your child to you," he said.
On Tuesday night, the Israeli cabinet approved the deal to release Shalit by a vote of 26 to 3.