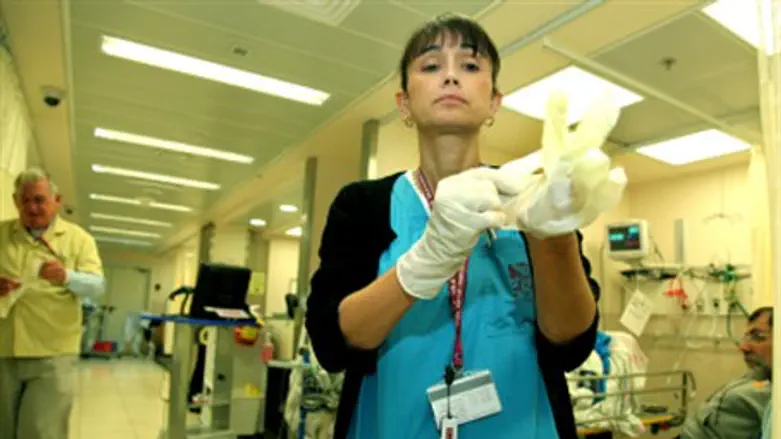 Nurse at Rambam Hospital
Israel news photo: Flash 90
Two hundred and seventy-seven residents did not show up for work in the country's hospitals Monday morning, a few weeks after handing in their resignations.
Of the no-shows, 104 are from Ichilov Hospital (Tel Aviv), 77 from Rambam (Haifa), 71 from Meir (Kfar Saba), 18 from Bnei Tzion (Haifa) and seven from Assaf HaRofeh (Tzrifin).
Dep. Min. Yitzchak Cohen (Shas) says the residents are using "blackmail and extortion techniques." Deputy Finance Minister MK Yitzchak Cohen (Shas) accused the medical residents who walked out of work Monday of having "lost their moral compass."
The path that they have chosen is illegitimate, and the public thinks so as well, he claimed. Cohen compared the residents' tactics to "blackmail and extortion."
"An entire populace of patients is their hostage and their one goal is money," he said. Cohen said that from the meetings held with the residents over the past few days, it was clear that they were not interested in strengthening public medicine.