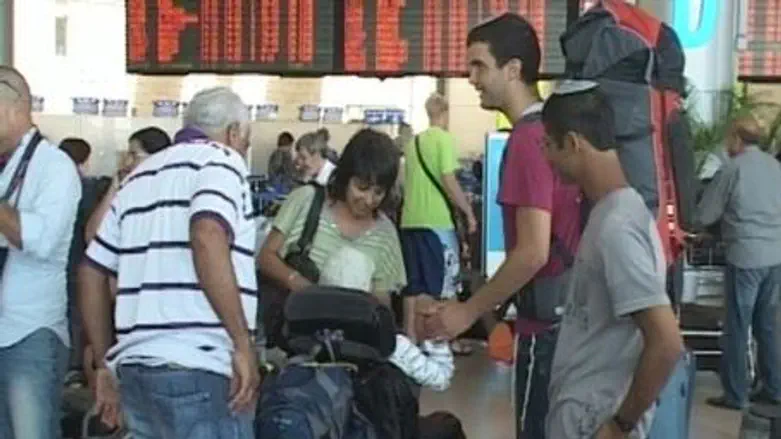 Ben Gurion Airport: just before taking off.
Israel news photo:Yoni Kempinski
As part of the Jewish nation's preparations for the holy Day of Atonement, Israel will close its borders for the holiday of Yom Kippur.
The Israel Airport Authority announced Thursday that Ben Gurion International Airport will close its airspace to all air traffic on the eve of the Yom Kippur holiday, Friday October 7, at 12:50 p.m. At that time, all aircraft movements at Ben Gurion International Airport will officially cease, IAA said in a statement.
Currently Israel's sole international airport, Ben Gurion  will reopen for international arrivals at 9:30 p.m. Saturday night, about four hours after the end of the holiday. Departures from the airport will commence an hour later, starting at 10:30 p.m.
Passenger traffic at the airport Friday is expected to be heavy, with some 21,944 passengers traveling on 151 flights. At the end of the holiday, another 2,830 passengers are scheduled on 17 flights. It has been a record-breaking summer for travel through the airport, and the Tourism Ministry has predicted similar figures for the fall season as well.
Tel Aviv's Sde Dov airport and Eilat's Ovdat airport will both be closed at 1:00 p.m. Friday as well. The final arrival time at Eilat's airport scheduled at 12:15 p.m. Friday, with the facility reopening after Yom Kippur at 9:30 p.m. Saturday night.
Haifa's local airport will also be closed on the eve of Yom Kippur, at 2:00 p.m. Friday. It will reopen after the holiday at 9:00 p.m. Saturday night.
All cargo terminals (including the ones at Nitzana, Ashdod and Haifa) and border crossings in and out of the country will close for the holiday as well.
The Allenby Bridge terminal will close at 11:00 a.m., and the Yitzhak Rabin and Jordan River crossings will close at 12:00 noon on Friday.
As usual, the crossings into Gaza, Judea and Samaria will also be closed until the end of the holiday.