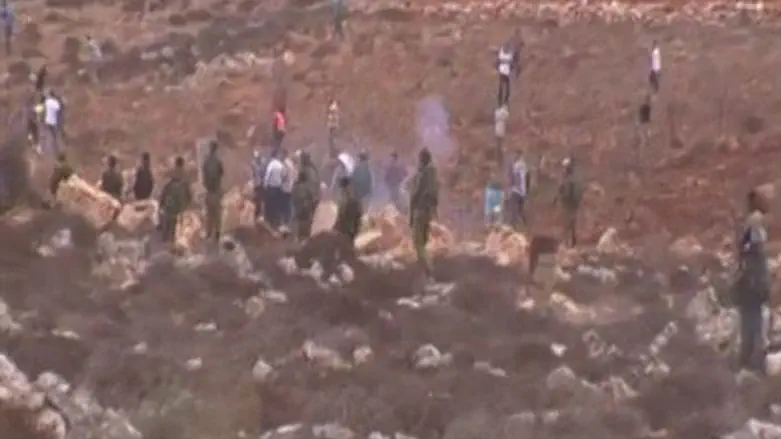 Confrontations near Esh Kodesh
Matti Barnea
The Binyamin Residents' Council said Tuesday that just like the IDF and the police had covered up last Friday's murder of Asher Palmer and his son and called it an accident, the army also covered up the truth about last Friday's riot near the community of Esh Kodesh.
The Council said that a statement issued by the IDF on Friday accused the Jewish residents of Binyamin of causing Arab villagers from Qusra to riot after they desecrated a farm belonging to a PA Arab.
Shocked at the IDF's statement, the Binyamin Residents' Council conducted its own research into the riots and found the following:
The Qusra riots began after Arabs stormed Esh Kodesh and the nearby Jewish orchards. There were no Jews at anytime in the Arab village. The Council also concluded that the Arab assault began at approximately 2:30 p.m. Israel time in a military encampment near the community of Alei Ayin. The Arabs rolled burning tires at soldiers and when an army jeep arrived on the scene, it was ambushed in such a way that the only way for the soldiers to escape was to shoot at the Arabs. One Arab rioter was killed.
The Council determined that the riot was well-planned and organized, and that information about it appeared on the Qusra website, which also called the village's residents to take part in the riot. The Council also stressed that documentations of the events by Jews who were in the area clearly showed the Arabs converging on Aley Ayin and then changing direction and moving towards Esh Kodesh.
The following video documents the Arab attack on the Jewish community and the ambush on the soldiers: