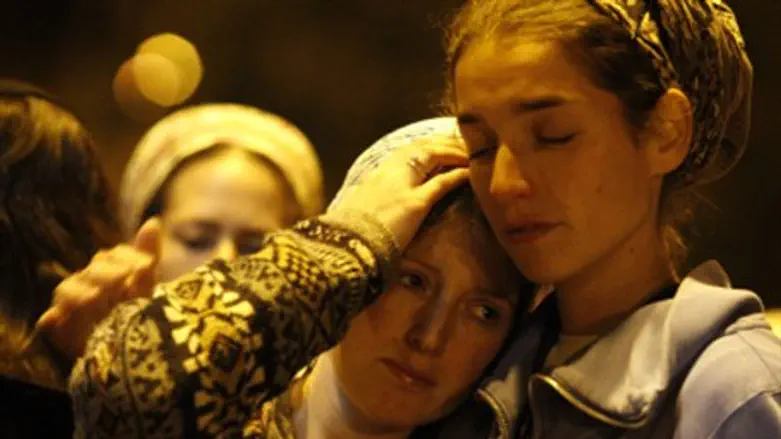 The Palmers' funeral
Israel news photo: Flash 90
A senior IDF officer in the Judea sector has admitted that the IDF purposely covered up the evidence that Asher Palmer and his infant son Yehonatan were murdered Friday, Arutz Sheva has learned exclusively. 
The senior officer admitted Sunday that the IDF falsely described the event to the press as an accident because of concern that nationalists would "inflame" the area, which was tense because of Palestinian Authority (PA) chairman Mahmoud Abbas's speech in the United Nations.
Arutz Sheva has learned that IDF Spokesman's Unit personnel were instructed, immediately after the crash that killed the Palmers, to contact all of the reporters that cover Judea and Samaria and to inform them that a check on the ground showed that the crash was an accident that was caused by the driver's speeding, and not a terror attack. 
An IDF spokeswoman who spoke to Arutz Sheva immediately after the crash also insisted that the investigation on the ground indicated an accident.
However, versions of events that Arutz Sheva has received from several IDF sources who requested anonymity, indicate that the military purposely covered up the murder, in collusion with the Israel Police.
This testimony has been handed over to nationalist MKs who intend to demand a reckoning by the IDF and police.
The IDF rejected the accusations. "The IDF expresses sorrow and takes part in the family's mourning. The IDF rejects out of hand the claims of falsely reporting the event. An initial scan by IDF Forces who were present on the ground during the event, which also relied on police investigators who arrived on the scene, indicated that no rocks had been thrown at the car from the sides of the road and that it was an accident. As the police investigation progressed
new evidence was found
and it was presented by the police."
A first responder also said that he reported Asher Palmer's handgun had been removed from its holster and that foul play appears to be involved.