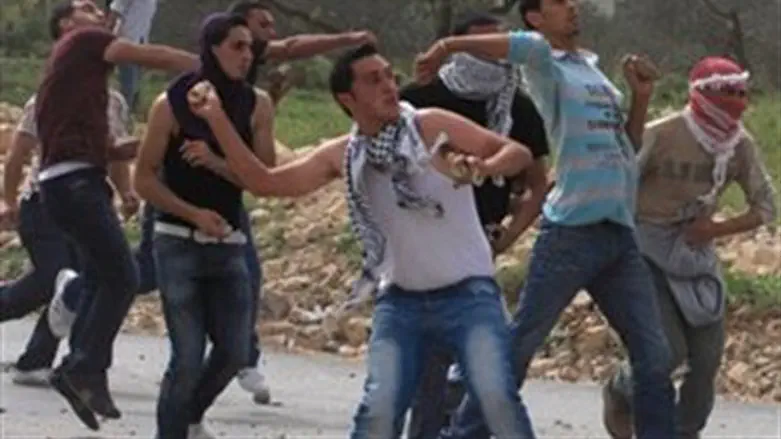 Rioters throw stones
Israel news photo: Flash 90
Palestinian Authority Arabs continued Thursday with rioting in Judea as demonstrations to "celebrate" the Ramallah government's statehood bid at the United Nations -- and to protest U.S. President Barack Obama's speech supporting Israel's contention that direct talks are the only route to real peace -- become increasingly violent.
Dozens of protesters rioted near the village of Beit Ummar, located north of Hevron and about ten minutes south on Highway 60 from numerous Jewish communities in Gush Etzion.
The demonstrators hurled sharp-edged rocks at the Israeli security forces, who responded with crowd control measures.
It's not the first time that Beit Ummar has been the scene of violent Arab protests.
As recently as yesterday, group of youths hurled rocks at IDF soldiers in the same village after they arrested a 20-year-old PA Arab suspect, Ibrahim Sabarneh, during his work day in counter terrorist operations.
MK Dr. Michael Ben-Ari (National Union/Ichud Leumi) called upon Israeli citizens to defend Jewish communities in Judea and Samaria from Arab rioters intending to infiltrate.
Ben-Ari said Thursday morning that police had received information that Arab rioters planned to infiltrate isolated settlement points across the two regions. "We must unite the forces and not stand by and abandon the heroes of the hilltops and outposts, who redeem the land with agriculture and growth," Ben-Ari said. "We cannot leave them all alone; we must all go out and defend the hilltops."
Women in the Gush Etzion town of Pnei Kedem are being trained with firearms and live ammunition, an activist has told Arutz Sheva. The women are "preparing like the IDF" for the expected PA Arab riots and marches, said the activist, who added, "just in case."