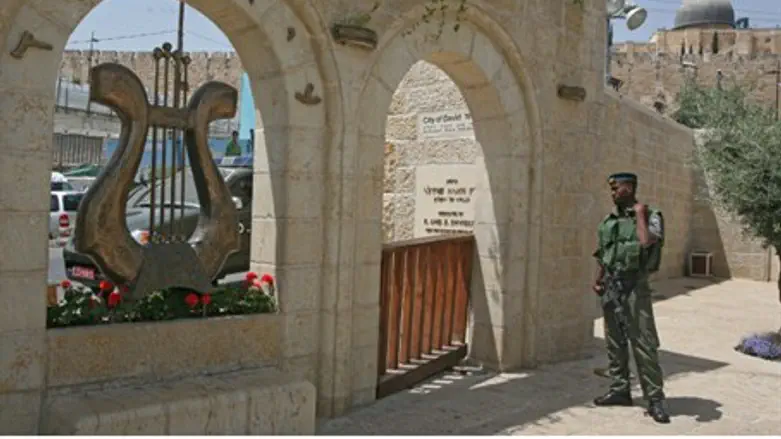 City of David
Flash 90
For the twelfth consecutive year the City of David will hold a conference on the finds and research of the past year, this Thursday night, September 8, 2011. "Last year 1,300 people came; this year we expect 1,500 attendees," says Aron Horowitz, Director, City of David Institute for Jerusalem Studies - Megalim.
Under the auspices of the Israel Nature and Parks Authority, the Israel Antiquities Authority, the Elad organization, and leading archaeologists, excavations take place year round in the City of David and vicinity, with hundreds of workers and volunteers. The enormous amount of work on this small area produces results that literally change the history books every year and percolate throughout the international academic world. This year will make its mark as well.
Events of the 10th Century BCE have been in the public and academic eyes in recent years. Two key protagonists in this discussion will face off by addressing different aspects of their research which directly and indirectly relate to David and Solomon's Jerusalem.
Prof. Israel Finkelstein (Tel Aviv University) will analyze several major structures generally considered to be hard evidence of David's City. His surgical analysis stone by stone and confrontation of academic paper by academic paper will certainly shake up and perhaps demolish conventional assumptions, throwing a stumbling block in front of easy explanations and diagrams.
Taking the other side of this debate, Prof. Yosef Garfinkel (Hebrew University of Jerusalem) will present a brand-new median theory of the Judean Kingdom's origins and historical precedence based on his recent excavations at Elah Fortress - Khirbet Qeiyafa, overlooking the Elah Valley where David and Goliath fought. Garfinkel believes the mighty 10th century BCE fortifications, extensive pottery, carbon-14 analysis, ancient writing, text-related features, and other findings of his four excavation seasons now shed new light on other sites and together draw a picture of a regional polity in this region and this period which cannot be ignored.
"Hezekiah's Tunnel" is a watchword amongst visitors to Jerusalem who come to walk this ancient water tunnel, and learn about the famous inscription carved into the mountain. It is popularly associated with Hezekiah's preparations for an expected onslaught by Sennacherib of Assyria, discussed extensively in the Bible. Both Prof. Ronnie Reich (University of Haifa) and Dr. Eli Shukron (Israel Antiquities Authority) on the one hand and well-known researcher Mr. Asher Grosbard on the other will each present incredibly well researched positions showing new insights into the text, a close examination of water channel features ignored by most researchers. Each side will offer to the audience opposing and original conclusions as to who built the tunnel and when. Watch the fireworks!
Prof. Gabriel Barkay (Bar Ilan University) was part of a survey team decades ago working the ancient necropolis of the Mount of Olives, and offers a penetrating analysis and well documented parallels to interpret and date the famous "Tomb of Pharaoh's Daughter."
Finally, a tremendous milestone and accomplishment was reached by excavating 550 meters of an ancient street and drainage channel running the entire length of the City of David and reaching under the Old City walls to the deepest of the Temple Mount's foundations. The by-now famous golden bell ornament will be displayed. A circle of excavations from the 1800s and today will be closed, ably demonstrated by the excavators Reich and Shukron.
Prof. Reich has a unique fluency in old and forgotten reports. When it comes to the City of David he has read each one of the hundreds of academic articles about the city and its inscriptions in their original publications, spanning 150 years, published in several languages. Several of his discoveries and theories come from this comprehensive view, stitching together little details overlooked even by famed excavatos such as Dame Kathleen Kenyon. As the excavator of this drainage tunnel together with Dr. Shukron, together with his earlier work with Yaacov Bilig (IAA) in the section alongside the Western Wall, no one is better positioned to recreate and share with the listeners a view of this tremendous engineering feat of 2,000 years ago.
In pre-conference tours beginning from 4:00pm the public will be able to walk the newly cleared section of the tunnel, starting in the Givati parking lot below the Dung Gate. Western Wall stones which have not been viewed since the time the Second Temple was built; stones deeper in the valley than any yet seen, take one's breath away. This section is not ready for regular visitation. According to the City of David's Doron Spielman, Director of International Development, no less than 1,000 people are expected to walk through during the few hours of this special opportunity, as well as visiting other exciting excavation areas.
A lovely conference book will be offered for sale, with colorful maps and pictures. Several articles are fully translated into English.
The City of David Store will be open offering related books and publications, and a new and unique line of artistic and educational items based on City of David themes and discoveries. Some books are also sold at the lovely conference venue alongside biblical period walls of Jerusalem.
Entrance is free for tours and the conference on a first-come first-served basis; participants are just asked to register at the entrance to the National Park, a five minute walk from the Western Wall, below the Dung Gate. Conference lectures get underway in the early evening. Refreshments are sold on site and there are facilities to enable visitors to stay for hours.
The City of David conferences are the largest annual conferences devoted to Jerusalem's history, heritage, and archaeology.
For more information on the 2011 conference click here.
To hear the pre-conference interview with Director Aron Horowitz on Israel National Radio's LandMinds show.
Israel National Radio - LandMinds will also have an official interview table at the conference. Talks will be posted on the Israel National News home page.