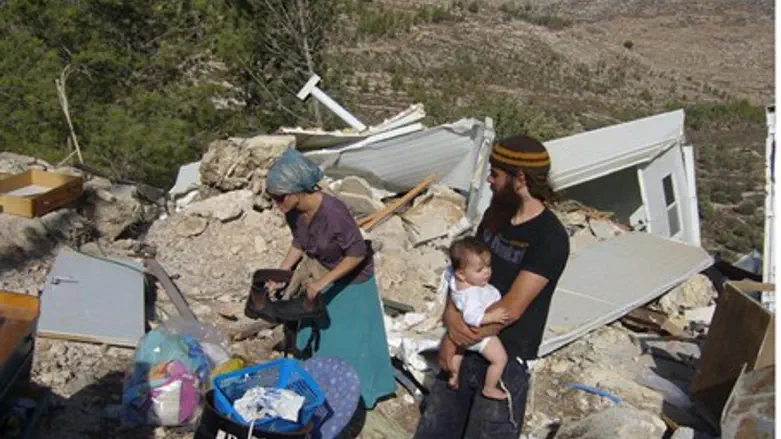 Demolition Aftermath
A7 Staff
A leaked internal document shows that the head of the Civil Administration ordered a discriminatory policy of demolition of unauthorized building by Jews but not by Arabs in Judea and Samaria, in direct contradiction to government promises to the High Court.
The internal correspondence was written under the subject headline "Summer Camp is Over" and suggests that Almoz is pursuing a political policy of "equality" with Arabs by freezing demolitions on their rampant illegal building. The High Court previously has questioned the government if it is wrongfully discriminating against Jews by destroying their unauthorized homes in far greater numbers than those of Arabs.
Almoz wrote, "We are very far from equality and enforcement until we feel that we are acting against illegal Israeli building. I request to stop all enforcement against Palestinians. We will try to convince the powers-to-be that we need to act in difficult place and in large numbers," apparently referring to communities and hilltop neighborhoods of nationalists.
Almoz added that the Civil Administration should work "without fear, even if there will be noise," meaning a vocal political reaction.
Concerning the suggestion from the High Court that the government is discriminating against Jews in its demolition policies, the government replied to the justices that the policy of destruction of homes is applied against Jews more than against Arabs but that it affects both sectors.
Likud Knesset Member Ze'ev Elkin, head of the sub-committee on Judea and Samaria, said he will convene a special hearing to ask the Civil Administration to explain the document.
"I see this document as being very grave in its tone and content because the administration itself indicates a blatant discriminatory policy in favor of Arabs," he said. "The head of the civil administration is lying. What appears in this document is a direct contradiction to statements from the government to the court, and facts on the ground show discrimination against Jews in enforcement of illegal building in Judea and Samaria."