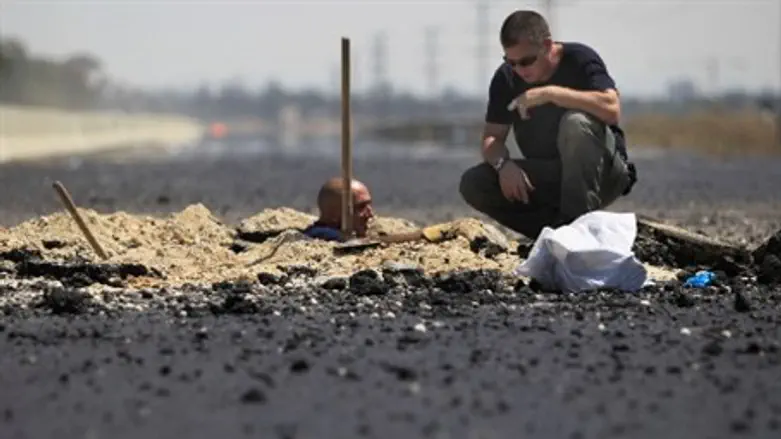 Aftermath of Grad rocket attack near Kiryat G
Arutz Sheva photo: Flash 90
August saw a sharp rise in terror attacks, the Israel Security Agency (ISA) reported Monday.
According to ISA statistics, 178 attacks were recorded in August, compared to just 53 in July. The figures include rocket and mortar attacks from Gaza.
Overall, 134 rocket attacks against Israel were recorded during the month.
ISA officials noted the number of terror attacks originating in the Hamas-ruled Gaza rose to 135, compared to just 30 originating in Israeli-administered Judea and Samaria. Meanwhile, six terror attacks originated in Jerusalem, compared to eight in July.
The terror attacks in August claimed the lives of nine Israelis and wounded 55 others. Eight Israelis were killed in a staged attack on a bus near Eilat, while another person was killed in a Grad attack.
However, a 79-year old man who was wounded in a rocket attack in August succumbed to his wounds Monday, and was not included in the August statistics.
In total, 145 rockets and 46 mortar shells were fired at Israel from Gaza last month, compared to 20 rockets and two mortar shells in July. Most attacks in Judea and Samaria and in Jerusalem (34 out of 36 attacks) were in the form of firebombs due to IDF presence impeding higher quality attacks.
Despite the increase in rocket and mortar attacks from Gaza, Israeli officials have ruled out a large-scale Gaza operation for the foreseeable future preferring to maintain the airstrike-for-attack paradigm that symbolizes Israel's poor security situation in the south.
A security official who spoke on condition of anonymity said IDF commanders are leery of committing ground forces to a prolonged operation in Gaza due to concerns over widespread violence following the Palestinian Authority's statehood bid at the United Nations in September.