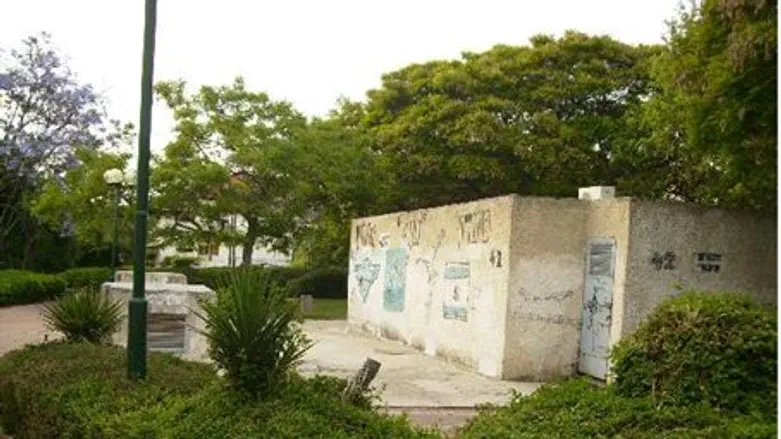 Bomb Shelter
Arutz Sheva: Drork
Rocket attacks on southern Israel launched by Gaza-based terrorists aren't going to end anytime in the near future, warned Home Front Command chief Matan Vilna'i soberly.
As a matter of fact, the attacks won't end for years, said Vilna'i, who also serves as the country's deputy Defense Minister.
Speaking at a ceremony to install 50 mobile protective bomb shelters near schools in Ofakim, Vilna'i was quoted by the Hebrew-language Ma'ariv newspaper as saying, "The missile threat is not about to end in the next two years – so in addition to activity against terrorists, the Treasury should continue to finance these protective chambers in the south."
Each circular concrete shelter can accommodate up to 18 people for short periods of time.
Although Ofakim is receiving protection for children as they begin the school year, the same cannot be said for elementary schools in the Ashkelon Coast Regional Council district.
Council director Yair Farjoun told Arutz Sheva  in an interview Tuesday that although the two largest schools in the region are now fortified against missile strikes, many other schools and day care centers are not.
"As far as everything more than five kilometers [from Gaza] – the government's attitude is that it can get by without fortification," Farjoun said.
Chabad-Lubavitch emissary to the port city of Ashkelon, Rabbi Menachem Lieberman, told Arutz Sheva that he is trying to raise money to purchase another five pre-fab bomb shelters to be placed next to kindergartens in the city.  Each of the pre-fab structures costs NIS 70,000, Lieberman said.
He added that both Chabad boys' and girls' schools in the city, from kindergarten through 12th grade, contain bomb shelters, and that the children would be drilled on how to reach them immediately in case of attack.
The parents of Ashkelon tried to force the government in a court petition to cover the costs of fortifying the public schools and buildings in the city against rockets, he added -- similar to the way in which Sderot was protected -- but the effort failed.