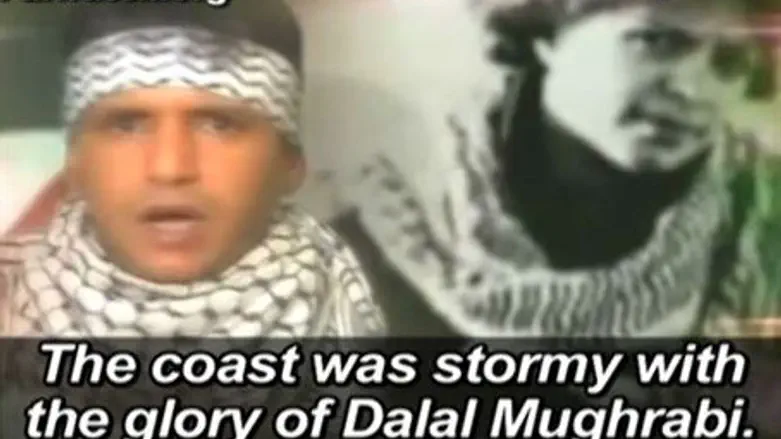 Dalal Mugrahbi on PA TV
Israel news photo: PMW
Official Palestinian Authority TV has once again chosen to glorify the perpetrator of the most lethal terror attack in Israel's history.
Dalal Mughrabi led a group of terrorists in 1978, who sailed from Lebanon to Israel to carry out a terror attack in which 37 Israeli civilians were killed.
Last week, PA TV broadcast a video honoring the terrorists. The video described them as having "no fear of death or the darkness of prison." The video was translated and presented on the website of Palestinian Media Watch (PMW), a research institute which monitors the Palestinian Authority-based media.
PMW has also presented another video which was broadcast during the Fatah anniversary celebration in January. In this case, PA TV broadcast a video which described the terrorists as "heroes... who shook the land, brought down mountains," and mentioned how "the coast was stormy with the glory of Dalal Mughrabi."
The PA has often been directly involved in attempts to honor Mughrabi, and has even used its summer camps to do so. Last month PMW reported that a PA-sponsored children's summer camp had divided its campers into three groups named after Mughrabi and two other terrorists.
Another PA camp, the "Lion Cubs and Flowers" summer camp, named one group after Mughrabi, one group after the terrorist leader who masterminded Mughrabi's attack, and one group after former Palestinian Authority Chairman Yasser Arafat.
Abbas has personally been involved in the effort to transform Mughrabi into a role model for PA Arabs. Abbas funded a computer center in 2009 that was named for the terrorist, and in 2010 he sponsored an event to mark what would have been the murderer's 50th birthday.
In March 2010, even as the PA leader claimed he had cancelled a ceremony to name a public square after Mughrabi, scheduled to take place during a visit to Israel by U.S. Vice President Joe Biden, the celebration was held "unofficially" -- with members of the PA leadership standing in for Abbas instead.