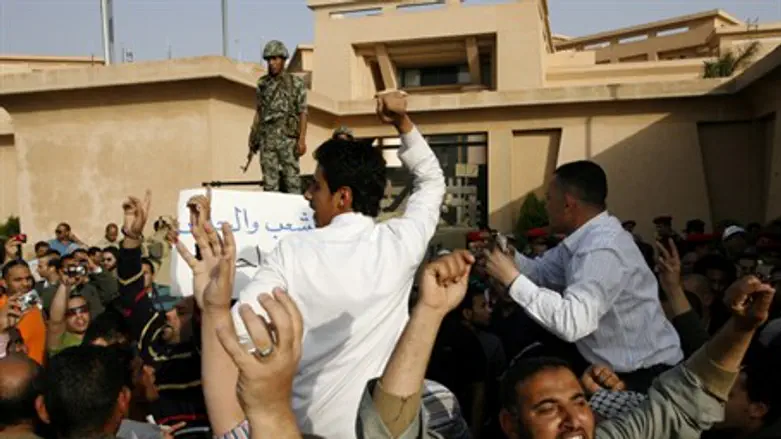 Israel Embassy Protest
Flash 90
The demonstrators who gathered for protests outside the Israeli Embassy in Cairo on Friday not only called for the cancellation of Egypt's peace agreement with Israel and for the expulsion of the Israeli Ambassador, but also called for the destruction of the Jews.
The protesters shouted the following:
"Jews, remember the Battle of Khaybar (an oasis north of Medina which was inhabited by Jews who were murdered by the forces of Muhammad –ed.), the Army of Muhammad is already here"; "Oh Zionists, please be patient, there's an Egyptian digging your grave,"; and "There is no god but Allah, Zionism is the enemy of Allah and so are the Americans".
The protesters also demanded to "open the borders (for Jihad) to the Egyptian people."
While the protests were far short of a "million man protest," as was originally called for, hundreds of demonstrators gathered outside the Israeli Embassy in Cairo. The turnout was far short of what organizers had hoped for perhaps because the Muslim Brotherhood announced its Freedom and Justice Party would not be participating in the demonstrations.
The protests came amid tensions following the deaths of three Egyptian security officers apparently shot inadvertently by IDF troops pursuing the terrorists who carried out last week's lethal terror attack near Eilat that left eight Israelis dead.
The website of the Egyptian daily Al-Masry Al-Youm reported Friday that thousands of Egyptians had protested against Israel in the six different governorates.
According to the protest, about 300 residents of Alexandria participated in a demonstration outside Leader Ibrahim mosque after Friday prayers. The protest then turned into a march which headed toward the Israeli Consulate in the Kafr Abdu neighborhood.
Another protest took part in Sharm el-Sheikh, said the report, with hundreds holding banners demanding a serious investigation into the incident and the expulsion of the Israeli ambassador.
The incident was also protested by dozen of youths in Suez.
(Arutz Sheva's North American Desk is keeping you updated until the start of Shabbat in New York. The time posted automatically on all Arutz Sheva articles, however, is Israeli time.)