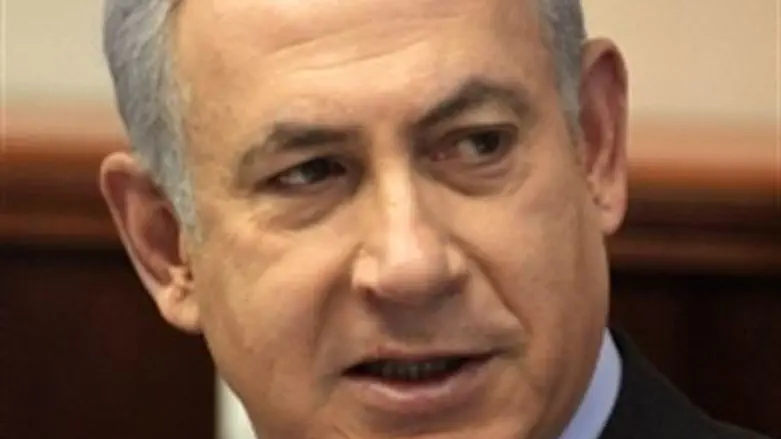 Netanyahu (file)
Flash 90
Prime Minister Binyamin Netanyahu said on Friday that the IDF's instant retaliation for the murderous attacks in southern Israel was just the beginning.
During a visit with soldiers who were wounded in the attacks and are currently hospitalized in the Soroka Hospital in Be'er Sheva, Netanyahu said, "IDF soldiers and YAMAM warriors reacted immediately yesterday. We killed the leaders of the organization that sent the terrorists. But that is only the first response."
Netanyahu added, "We have a policy to charge a very high price from those who hurt us and this policy is implemented."
In the attack, which occurred just hours after the attacks which claimed the lives of seven Israelis, the terrorist commander who presided over the attacks was killed.
The top terrorist was Abu Awad Kamel a-Neirab, commander of the Salah a-Din Brigades, the "military" wing of the Popular Resistance Committees.
A-Neirab was killed while meeting in a house along with two other terrorist heads of the terrorist group and a child who was with them, although it was clear that keeping the child there was placing him in danger.
In a short statement he made after the IDF's retaliation, Netanyahu said: "We all witnessed an attempt to ratchet up the level of terror emanating from Sinai. If someone thinks that Israel will put up with this, he is wrong.
"I have established a principle: when Israeli citizens are hurt, we hit back immediately, and with force. This principle was implemented today. The people who gave the order to murder our civilians, who were hiding in Gaza, are no longer among the living," Netanyahu said.
(Arutz Sheva's North American Desk is keeping you updated until the start of Shabbat in New York. The time posted automatically on all Arutz Sheva articles, however, is Israeli time.)