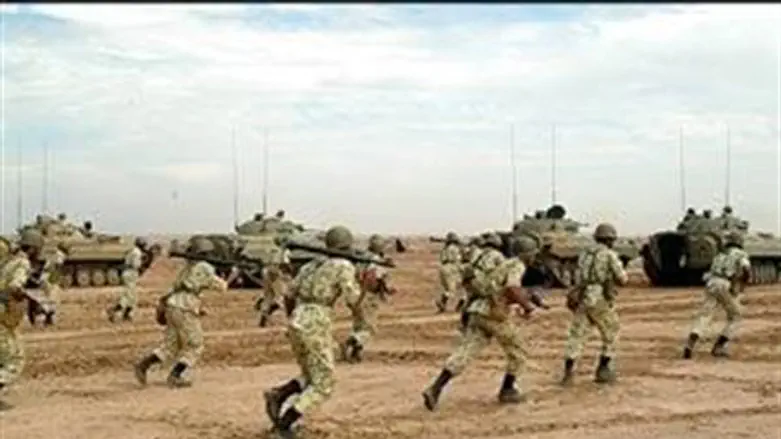 Egyptian Army in Sinai
Flash 90
A suicide bomber struck on Friday morning outside Eilat, near the site of deadly terrorist attacks Thursday. The bomber hit Egyptian soldiers near the border.

The explosion was heard on the Israeli side of the border as well.

The attack caused injuries and fatalities among the Egyptian soldiers. Earlier in the day three Egyptian soldiers were killed by IDF fire as Israeli soldiers chased down terrorists along the border.

Security sources said Friday that several terrorists affiliated with the group that carried out Thursday's attacks remain in the Sinai Peninsula. Egyptian troops are hunting them down, while the IDF remains on high alert on Israel's side of the border.

The original terror cell is thought to have numbered 15-20 armed terrorists. Nine have been killed so far, seven by Israel and another two by Egypt.

Egyptian officials admitted Thursday that the Sinai region has been in a state of "anarchy" since the ouster of former President Hosni Mubarak in early 2011. Egypt's security forces are currently in the area in an attempt to restore order.

Former IDF General Uzi Dayan said Thursday that Israel should ask permission to go after terrorists itself. "We must ask the Egyptians to have the possibility of intervening militarily in the Sinai if it is required.... we need to retain the ability to act and intervene in Sinai," he told Arutz Sheva.