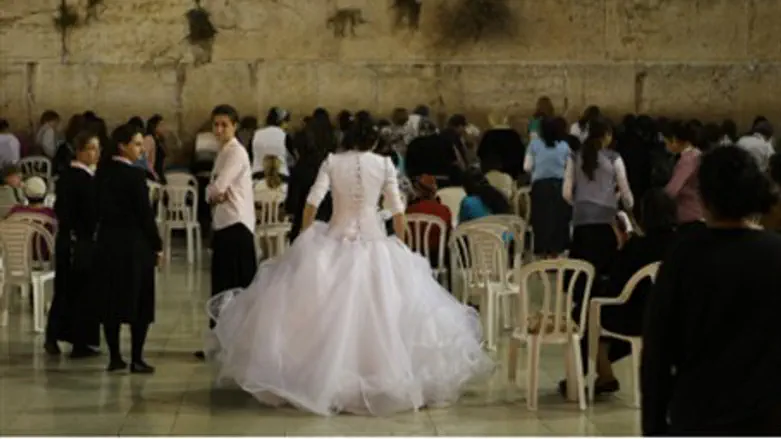 Bride at Kotel
Flash 90
The Central Bureau of Statistics released some numbers pertaining to marriage in Israel as they do each year in honor of Tu B'Av, the holiday celebrating nuptials and considered by Torah sages as one of two happiest days of the year, the other being Yom Kippur.
The average age gap between husband and wife in first marriages was 2.3 years among Jews. The number for the rest of the religions was more than twice as high – at about five years.
All in all, 48,997 couples married in 2009. Of these, 37,165 were Jewish, 9,999 Muslim, 758 Christians and 990 Druze. A press statement explained that the statistics relate to 2009 because CBS's analyses go two years back, not one.
The average age among grooms in their first marriage was 27.6 for the general population and 28.0 for Jews. The average age among brides in their first marriage was 24.8 for the general population and 25.7 for Jews.  
Eighty six percent of Jewish marriages were between two people who had never married before. This is down from 89 percent in the early 1970s.
Eighty-four percent of Jewish brides married a man who was born in the same country as they were, while only 36 percent of the brides married a man whose "origin" was the same as theirs. For people born abroad – the origin is the country they were born in. For people born in Israel, "origin" is determined by the father's country of birth.