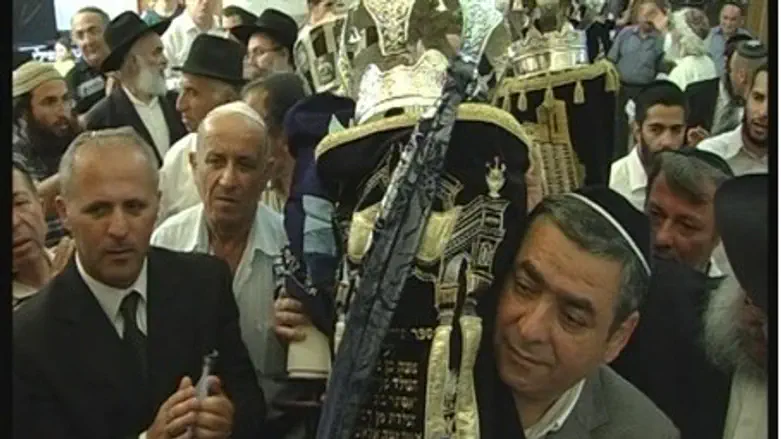 Torah scroll in Cave of the Patriarchs
Arutz Sheva photo: Photo David Ashdod
A new Torah scroll was placed last week in the Cave of the Patriarchs in Hevron.
The scroll was donated by the head of the Jewish community in Georgia, Yisrael Bareli and his family, in memory of his late grandfather.
Among the many guests who attended the special ceremony were the Georgian Jewish community's chief rabbis in Israel and Moscow, MK Avraham Michaeli (Shas), deputy police commissioner Yisrael Yitzhak, and the IDF and Israeli police commanders in Hevron. Also present were residents of the Hevron Jewish community and its leaders Rabbi Dov Lior and Rabbi Moshe Levinger, Yossi Dayan of the Kiryat Arba Religious Council, Rabbi Hillel Horowitz and Baruch Marzel.
"The Bareli family, who survived the Soviet cruelty, was able to preserve its Judaism for years," said Rabbi Dov Lior during the ceremony. "They saved Jews and covered for them. I have no doubt that this is one of the rights for which they were given the privilege of writing a Torah scroll and putting it next to the resting place of our holy ancestors."
Rabbi Hillel Horowitz recalled the conversation he had with Bareli when he announced his intention to place a Torah scroll in the Cave of the Patriarchs.
"Rabbi Yisrael said, 'I want to place a Torah scroll in the Cave of the Patriarchs,'" said Rabbi Horowitz. "I thought to myself: Okay, maybe he means in a year, maybe in the future, maybe it's just a thought. Then he told me: 'Take the loudspeaker and announce that on the 11th of Av, a Torah scroll will be placed in the Cave of the Patriarchs.' That was a month ago. We didn't believe it, that he said something and did it right away."