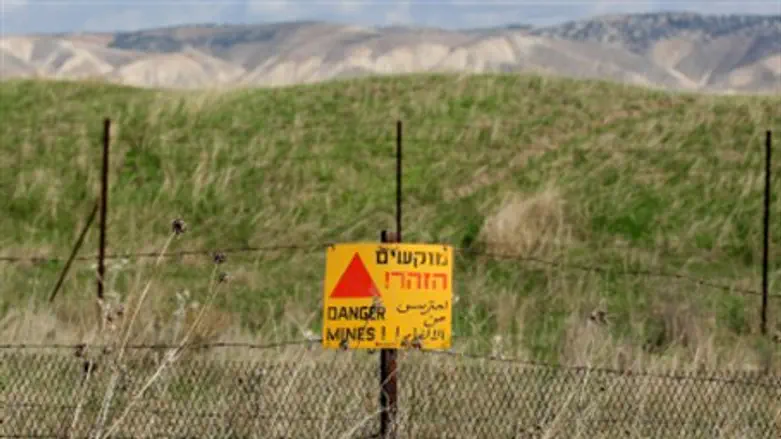 "!Danger: mines"
Flash 90
Anticipating attempts by Syrian civilians to cross the border into Israel in September, the IDF has placed antipersonnel landmines along the Syria border in the Golan Heights, reports IDF journal Bamachaneh.
The mines were laid by Combat Engineering Corps officer cadets and will be followed by extensive laying of landmines throughout the sector. They were placed beyond the border security fence but within the Alpha Line that marks the border with Syria. The mining was carried out openly and in daylight.
This is the first batch of fresh mines that Israel has placed along the Syria border in a decade. They are being laid in
the aftermath of the embarrassment
that accompanied the events of "Nakba Day," when civilians from Syria
successfully crossed the border with
Israel on foot, passing through anti-tank ditches and areas that were supposed to be covered by antipersonnel mines. 
"The landmine laying activity follows Nakba Day and is meant to strengthen and thicken the barrier," engineering officer Major Ariel Ilouz told Bamachaneh. "The matter was expedited, of course, in advance of September. This whole obstacle, which includes antipersonnel ditches, fences and more, is designed to block infantry forces as well as a charging crowd of people."
"That, in coordination with our military forces and snipers, is supposed to delay and prevent the crossing of the border by a mass of people," he added.
Anti-tank mines will also be beefed up in the region. Engineering corps soldiers said that some of the existing mines are being upgraded, and new ones are being added to the mix.
The Palestinian Authority has warned that it might declare statehood unilaterally in September. This could involve attempts by large crowds to storm into Israel. However, the IDF has said
it does not expect large scale violence
.