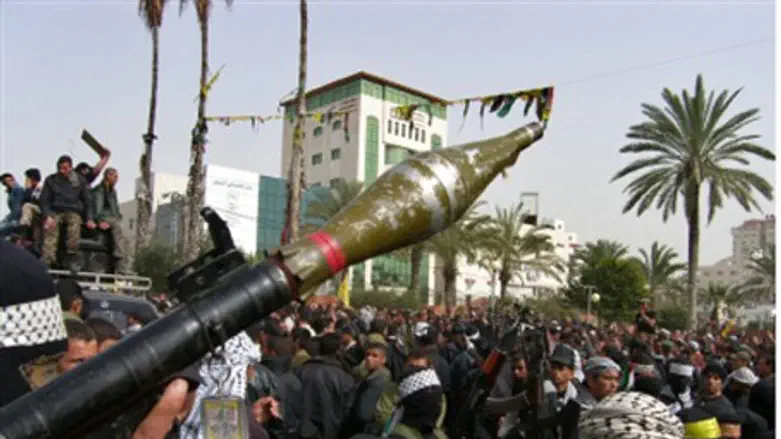 Terrorists brandish RPG in Gaza (file)
Arutz Sheva: Flash 90
A terrorist group with ties to the Palestinian Authority's ruling Faction faction in Judea and Samaria has re-emerged in Gaza, The Media Line reports.
The group, which calls itself the Ansar Al-Mujahadeen, claims to have thousands of members. The group was previously known under the name Kata'eb Al-Mujahadeen, and as such claimed responsibility for numerous terrorist attacks in Israel in 2009 and 2010.
According to Israeli security sources quoted by The Media Line, the group is part of the Salafi movement – an Islamic militant group seeking to replace all existing Arab regimes with an Islamic caliphate.
Three Salafi factions in Gaza, all of which are linked with the international Islamist Al Qaeda terrorist organization, were involved in the murder of an Italian activist from the International Solidarity Movement (ISM) earlier this year.
More than 11,000 Gazans are allegedly affiliated in some way with Al-Qaeda at this point, according to Abu Al-Hareth, founder of the Salafi group Jund Ansar Allah -- almost 70 percent of them former members of Hamas. Al-Hareth made the claim in an interview with the Bethlehem-based Ma'an news agency in April.
Three masked men dressed in camouflage and armed with rifles held a news conference in the Hamas terrorist-ruled region to announce the renewal of Ansar Al-Mujahadeen following the alleged assassination of its leadership by Israel. A man who called himself Asa'ad Abu Shari'a told reporters he was the group's secretary-general. 
A second man, Abu Bilal, was identified as the spokesman for the group, which he claimed spanned both sections of the Palestinian Authority, divided since Hamas wrested control of Gaza, ousting Fatah, in June 2007. Fatah has since maintained control only over Judea and Samaria, from its capital in Ramallah.
"We have hundreds – if not thousands – of members in Gaza and [Judea and Samaria] and we expect to grow now that we are a new faction which is independent and works towards a free Palestine," Abu Bilal said.
"We have successfully executed many jihad missions against Israel, our enemy, and we have given so many souls to Palestine because the Israeli enemy has assassinated many of our leaders and leading members," the spokesman continued.
He added that the group had announced its re-emergence now because it was "the right time," referring to next month's bid by the Palestinian Authority to win unilateral recognition as a new country by the United Nations and gain membership in that body.
"Palestine is heading towards an important crossroad next month while we see if the United Nations will vote for a Palestinian state or not," Abu Bilal said.
"We want to also try to bring Fatah and Hamas together... We have strong tires with all [the] factions, especially Hamas and Fatah, since we were from Fatah and executed joint jihad missions together with Hamas and other armed factions," he explained.