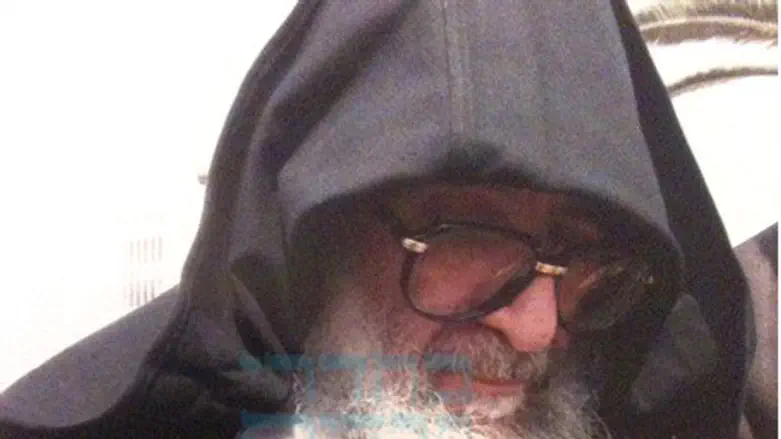 Rabbi Elazar Abuhatzeira
בחדרי חרדים
Rabbis Pinchas Abuhatzeira, eldest son of the slain 'Baba Elazar", says his father was "a giant among giants" but will accept an appointment to replace him.
Rabbi Elazar Rabbis Abuhatzeira was stabbed to death late Thursday night by a mentally disturbed attacker who later told police he "worshipped" the rabbi but was upset by marital problems on which the rabbi had advised him.
The seven-day mourning period, known as shiva, ends Thursday morning. Rabbi Pinchas Abuhatzeira, speaking with the Hebrew-language newspaper Yisrael HaYom, said he was told shortly before his father's funeral that he had been appointed to take his spiritual position.
"I am too small to do so," the son said. "He was a giant among giants, and I am so small."
He related that he was studying Torah early Friday morning when a student called him to come outside, where he told the rabbi that his father had been stabbed.
"I rushed outside and reached the ambulance," Rabbi Abuhatzeira said, "but after 15 minutes, I was informed that he had died. This is a terrible blow. He was at the height of spiritual strength."
Rabbi Elazar Abuhatzeira, son of the renowned "Babi Sali," was very strict on himself concerning modesty, his eldest son said. "He was very self-demanding. He did not sleep in an orderly way and did not eat well. He spent hours in the synagogue and at home studying but always inquired about every detail concerning his children. He gave us everything."
Rabbi Pinchas Abuhatzeira said he will not dress like his father, who hid his face out of modesty and used an underground tunnel to arrive at yeshiva from his home.
"No one becomes steeped in Kabbalh in two days," the new "Baba Pinchas" said. He said he is taking it upon himself to learn for many years and noted that the merits of his father live from generation to generation.