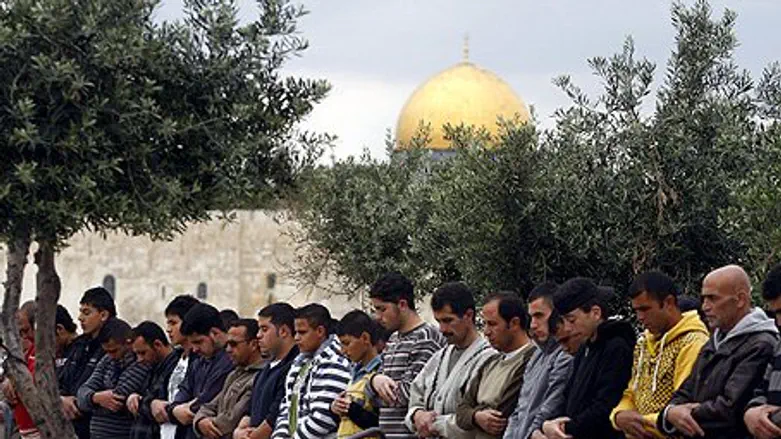 Muslim prayer
Arutz Sheva
The IDF has eased security restrictions on Gaza Arabs at the opening of the Muslim holy month of Ramadan, which already has been marked by violence.
IDF soldiers also have been given orders "to show special consideration toward the Palestinian residents of the Judea and Samaria region and, wherever possible, to refrain from eating, drinking and smoking in public" in order not offend Muslims, the IDF said.
Palestinian Authority trucks carrying supplies will be able to travel freely between the Judea and Samaria Region and the Jordan Valley beginning Monday, the first day of Ramadan, the IDF and the Coordinator of Government Activities in the Territories announced.
The IDF also is granting visiting permits to Palestinian Authority Arabs who have relatives in Israel and is allowing 200 Arabs to travel abroad from Ben Gurion Airport.
In addition, the crossing to Ramallah will be open until midnight every day, and Israeli Arabs will be able to use the crossings in the northern Jordan Valley.
Adjacent to Kfar Saba, which is part of metropolitan Tel Aviv, a gate leading to the Arab city of Kalkilya will be open daily for the departure of Israeli Arabs who have visited their families in the Palestinian Authority.
Restrictions at the Temple Mount also will be eased and 2,000 Palestinian Authority Arabs will be allowed to pray there during weekdays in Ramadan, which this year coincides with the month of August.
Men age 50 and over and women age 45 and over will be able to enter the Temple Mount for prayer without any restrictions. Men married with children over the age of 45 and women married with children over the age of 30 will be given authorized entry into the Temple Mount after receiving the appropriate permits.
The Coordinator of Government Activities in the Territories, Maj. Gen. Eitan Dangot met with representatives of the Palestinian Authority and updated them regarding the gestures and easing of restrictions for Ramadan.