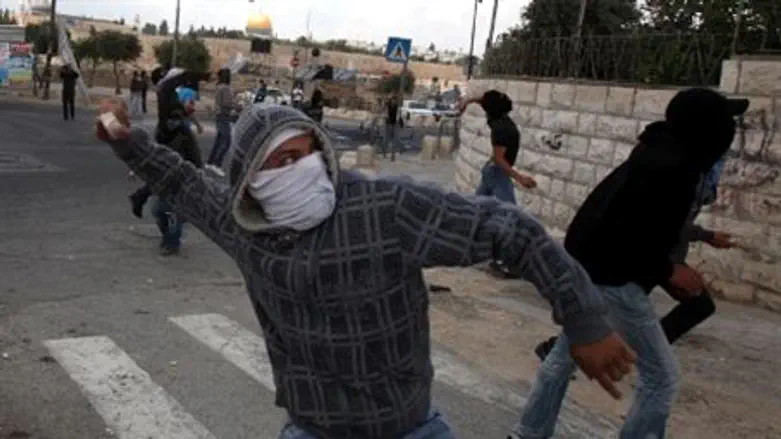 Arab Nakba Day rioeter hurls rock at Jews in
Israel news photo: Flash 90
Police revealed Sunday that officers have arrested 17 suspects in the savage mob attack of a Jewish man in an Arab neighborhood of Jerusalem. Victim Nir Nachshon was yanked from his car and beaten after accidentally entering the neighborhood of Issawiya.

The suspects are all young Arab men from the neighborhood.

Nine suspects have had their remands extended, and are expected to face indictments in the upcoming days. Another eight will be taken to court in the near future, and police are expected to ask that their remands be extended.

The suspects have admitted to the attack. They told police that they had believed Nachshon to be a member of the "mistaarvim" undercover army unit that works in Arab neighborhoods.

They decided to attack him, surrounded his car and pelted it with heavy stones, then dragged him out and beat him with crowbars, sticks and rocks. Nachshon was saved by other Arab residents of the neighborhood, who took him from the mob as the attackers tried to set his car on fire, and sheltered him in a nearby home until police could come to the rescue.

Issawiya has been the site of similar attacks in the recent past. A Jewish repairman was nearly lynched in the neighborhood in 2010; he, too, was rescued by older Arabs in the neighborhood as young men attacked his car.

Police believe Nachshon entered the neighborhood as he followed directions from a GPS device. The NAVNGO company has warned that GPS can be dangerous (click highlighted words for Arutz Sheva's instructions)  in Israel as they are programmed to show the shortest route between two places, and will direct drivers to drive through an Arab neighborhood, such as Issawiya, that Jews avoid.
The GPS can also direct drivers to attempt to go through PA controlled  areas, such as going through the city of Ramallah on the route from Jerusalem to Beit El, rather than using the safe government-built bypass roads which are slightly longer in distance but make up for it with higher speed limits. The IDF has roadblocks which prevent Israeli cars from actually entereing PA controlled areas for drivers who are lost or have used GPS devices through ignorance..