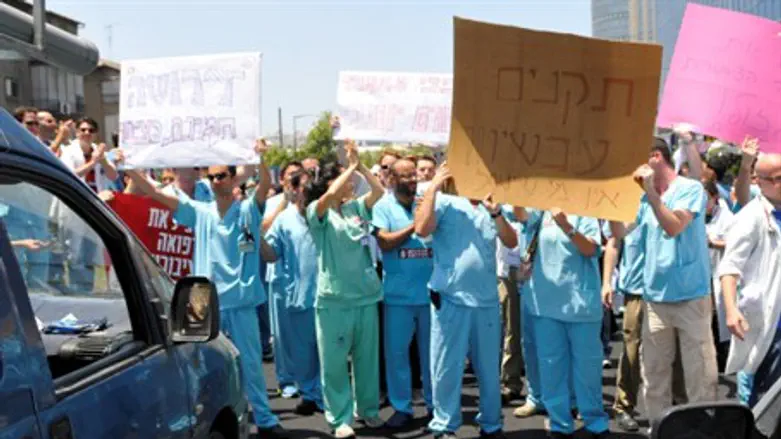 Doctors Block Road
Flash 90
As the labor court worked intensively to end the ongoing doctors' strike on Wednesday, hundreds of physicians and medical residents walked out of hospitals across the country in protest of a potential agreement.
Arutz Sheva visited the site of the protest in Tel Aviv.
Dr. Shuli Swetitzki, a resident at Tel Aviv's Ichilov Hospital, explained why the doctors had walked out en masse.
"Our workload is enormous, our patients lie in the hospital corridors, old people are very very sick, and we work very long hours," she said. "I just worked 26 hours and I'm tired.
"I think we need to improve the medical system," she continued, "and our medical organization isn't doing a good job with the negotiations."
She explained that the doctors simply want to make a decent living.
"A lot of doctors in Israel want to leave the profession because it's so hard to get by, but we also want the health system to function. We have a great public health system and money and funds must be invested in it. The government is just letting the health system collapse."
Dr. Swetitzki noted that it was the residents who were protesting on Wednesday, but that the senior doctors would also be hurt by the proposed agreement.
"I think you'll see senior doctors [protesting] here as well," she said. "The negotiations aren't good for any segments of our profession."