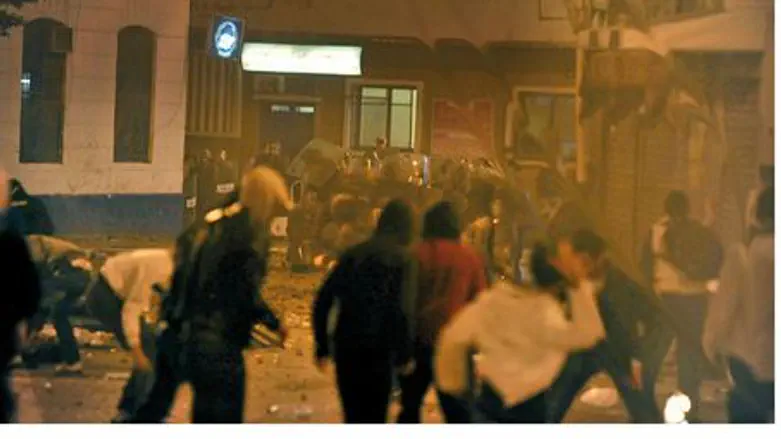 Algerian clashes in January 2011
Arutz Sheva: Flickr / Kobac
Two people are dead – including one police officer – following a suicide bombing attack on a police headquarters in the Algerian town of Bordj Menaiel. Several other police officers were seriously wounded, according to the Reuters news agency, which quoted a local source who asked not to be identified.
The town is located some 70 kilometers (45 miles) east of the capital, Algiers, in the mountainous Kabylie region. It is an area in which the Al Qaeda in the Islamic Maghreb (AQIM) terrorist organization has its headquarters for northern Algeria – and an area in which many of its attacks are carried out.
According to a source quoted by the SITE online monitoring service, the North African branch of the international Al Qaeda terrorist organization claimed responsibility for the attack. The group reportedly made the announcement in a communique dated Tuesday July 19 posted on various Internet Islamic jihadist forums.
The group said it had carried out two coordinated suicide bombings at the police station on Saturday and claimed that 15 security officers had been killed in the attack. The AQIM announcement added that the attacks had followed two bombings by the terrorist organization in Baghlia, a small town in the Boumerdes Province last Wednesday and Thursday.
Although relatively quiet at present, Algeria did not escape the "Arab Spring" unscathed; riots swept through that country with the start of the uprisings that spread throughout the Arab world in January.
As in Tunisia, a 37-year-old protester, Mohsen Bouterfif, set himself on fire in mid-January and died in a village near the Tunisian border after being told by the mayor of his town that he could not give him a house and a job. The self-immolation ignited a fury of protests that spread throughout the country, leaving at least two dead and scores wounded over rising food prices and spiraling unemployment.