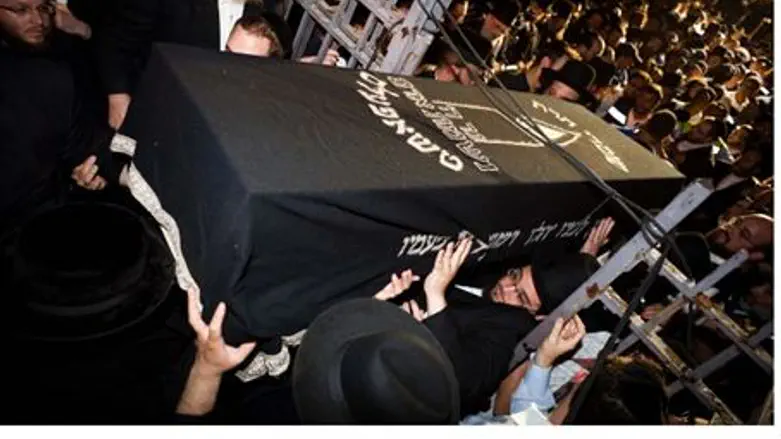 Funeral of Leiby Kletzky, Borough Park, Brook
Israel news photo: Fern Sidman
A sea of mourners packed 56th and 57th Streets near 16th Avenue in Boro Park, Brooklyn Wednesday evening as they paid their final goodbyes to the boy who trusted a stranger and died as a result.
Nine-year old Leiby Kletzky was murdered by the stranger he asked for directions after he got lost while walking home from day camp for the first time Monday afternoon. He was remembered as a "pure and holy soul" by several rabbis who delivered the eulogies for him at Bais Medrash Heichal HaTefillah. Loudspeakers blared the emotionally charged and often tearful words of those who spoke to the thousands who massed well into the street beyond the building. Mourners stood shoulder to shoulder outside the synagogue where the Kletzky family prays.
(Israel news video: courtesy of NYNews.RU)
"In all my years living in Boro Park, there has never been such a grisly and barbaric murder like this. This young soul was so sweet and innocent. This horrific tragedy will never leave our hearts and souls," said Yetta Schumacher, 68, who lives only several blocks away from the Kletzky family. With tears running down her cheeks, she said that "we are all one; one body and one soul and today each of us has lost a son."

Speaking entirely in Yiddish, several rabbis including Rabbi Binyomin Eisenberger, the rabbi of the Kletzky family shul importuned the sobbing mourners to be careful. They urged the adults adults to protect their children from strangers, to search within themselves, to conduct a thorough introspection of their deeds and to strive to truly return to Hashem (G-d) in every aspect of their lives. The predominant theme was that of "teshuva" (repentance). "How could such a thing happen to such an innocent child?" said the rabbi in a choked up voice that was barely audible through his tears.

Other rabbis such as Rabbi Gavriel Zinner, Rabbi Shraga Hager, and Leiby's rebbe (teacher) focused on the exemplary character traits that young Leiby displayed. They also exhorted those in attendance to appreciate G-d's blessings, increase their observance of modesty, to work towards unity and love of one another, as well as to focus on constantly creating "shalom" (peace) by eradicating conflict within and between families and communities.

Rabbi Nachman Kletzky's voice shook as he stood before the crowd and addressed his only son, saying that he was lucky to have had him, if only for nine years. He thanked G-d for such a "beautiful child" with a "beautiful neshoma"."Hashem gave, and Hashem took," said the boy's father. "Thank you Hashem for giving you to us for nine years. We have to thank You for what You gave us."

Turning to the casket Rabbi Kletzky said to Leiby, "Pray for your sisters and the rest of your family, including the entire People of Yisroel, which is now part of our family." Overcome by emotion, he fell silent.

Amongst the throngs of mourners standing outside and paying respects was Kletzky family friend Shmuel Eckstein who said of the family: "Great people. I mean, there's nothing more to say. No flowery stuff about them, they're not into the trimmings and all the hidden agendas that come along with pleasures of life and all this stuff. They're a simple, humble, good family that just wanted to be an asset to this world in the best way they can."

"I was part of the search team looking for Leiby since Monday evening", said a member of the Boro Park Shomrim who chose to remain anonymous. "The outpouring of devotion and love from Jews not only in Boro Park but from all areas of New York and such places as Monsey and Lakewood has been so absolutely incredible. They never stopped looking for him and put their own lives on hold to try and save a young boy and that you will never see anywhere else", he said with tears welling in his eyes.

The massive crowd followed the hearse carrying Leiby's remains as it stopped by the family home on 15th Avenue and 57th Street, where the Jewish Prayer for the Dead, Kaddish, was recited. Leiby's body was to be buried at a cemetery in Deans, New Jersey.
Editor's note: Arutz Sheva correspondent Fern Sidman took an active part in the concerted search efforts for Leiby and also attended the funeral, writing from there.