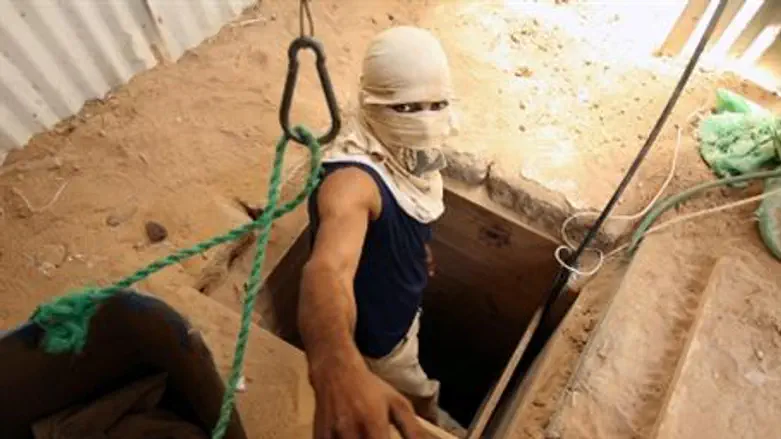 Terrorist and tunnel
Israel news photo: Flash 90
Terrorists in Hamas-controlled Gaza attacked south of Ashkelon Saturday with two rockets, and the Air Force retaliated by bombing a terror tunnel.
No damage or injuries were reported in the missile attacks, and the IDF said the retaliatory bombing scored a direct hit on the tunnel. As in the past, the Defense Ministry did not explain why the terror tunnels, designed to help terrorists infiltrate and carry out kidnappings, are bombed only after missile strikes on Israelis.
Terrorists have attempted to enter Israel via Hamas-built tunnels, under cover of haze when weather conditions cause poor visibility, and by attempting to cut the security fence. Often, mortar and rocket fire towards Israel are employed in an attempt to distract IDF soldiers.
The Hamas and allied terrorists have escalated attacks on Israel the past two weeks after a lull of more than two months. A roadside bomb caused light injuries to one tank soldier on Thursday. The same day, the IDF said it is installing the Windbreaker system, shielding tank against missiles, on another battalion in the brigade that is based near Gaza.
Earlier last week, the Air Force strafed and killed two terrorists as they were preparing to launch rockets n the western Negev.
Hamas officially declared a ceasefire in April but has violated it several times, as in the past.