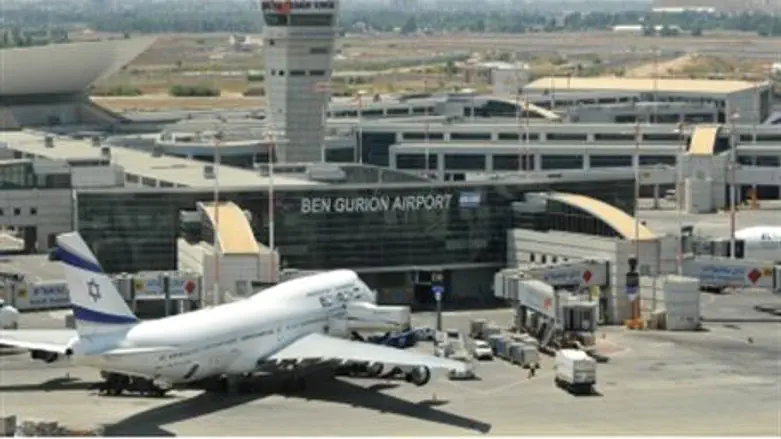 Ben Gurion Airport
Israel news photo: Flash 90
Officials at Ben-Gurion International Airport reported few unusual incidents after a full night in which approximately 70 planes arrived in Israel. There had been concerns that a planned "fly-in" would lead to disturbances.

The reports may indicate that the fly-in protest is on its way to fizzling out like its naval counterpart. A plan to bring a group of foreign citizens to Gaza by sea in violation of Israel's naval blockade on Hamas failed to materialize as Greek officials refused to allow the ships to set sail.

In a single incident at the airport, two American women arrived and announced that they had come by plane as part of the "fly-in" after their plans to reach Gaza by sea had fallen through. The two were denied entrance to Israel, and they were quietly put on a return flight.

Israel has provided foreign airports with a list of 350 people who will not be granted access to the country, and several other pro-Hamas activists were turned back in airports in their home countries before boarding their flights.

Police at the airport had only one demonstration to deal with overnight – an outpouring of pro-Israel exuberance from a group of recently arrived immigrants from France. The young immigrants came to hold a counter-demonstration against the planned anti-Israel demonstration.

Security officials asked the group not to demonstrate in the arrivals hall, which is considered an international space. The youth were cooperative, and moved elsewhere.

They explained that they had come to address foreign anti-Israel activists from France in particular, and to tell them, "This is our country, go back to your country. You do not need to come here in order to get to Gaza."

Activists wishing to visit Gaza or to send goods to the region are able to do so via Egyptian crossings in the Sinai Peninsula. Goods can also be sent via Israeli crossings in the Negev.