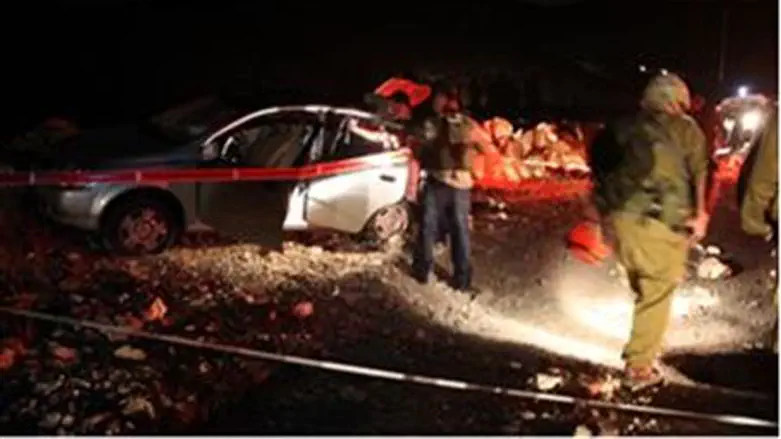 Terror Attack Scene near Kochav Hashachar
Flash 90
On Wednesday,  President Shimon Peres will present the "Presidential Citation for Volunteer Activity" to 12 individuals and organizations who have significantly contributed to Israeli society – one of them being the OneFamily Fund, one of the largest Israeli organizations helping terror victims readjust to life "after" - and one of the most successful volunteer groups in Israel, raising between $4 million and $5 million each year, says Founding Chairman Marc Belzberg.
"We take a personal approach to the people we work with. We pick up where the others leave off. It's a very unique approach."

OneFamily provides direct financial, legal, and emotional assistance to victims of terrorism in Israel –dealing with each individual or family to help them move on with life after experiencing the trauma of terrorism.
"When someone – a wife, a child, or a parent – loses someone to terrorism, their relationships change significantly. Friends just don't know how to relate to the victim, and gradually they find themselves isolated. We provide what every victim wishes they had: Someone to listen to their problems with a sensitive ear and maintaining ongoing, unconditional one-on-one contact," says Belzberg.

Among the services OneFamily provides are retreats, workshops and support groups for victims' families; legal assistance; and help with coping with holidays, problems in school and work, and dealing with government and other institutions.
In addition, OneFamily provides financial assistance to families and individuals; currently, says Belzberg, the organization is dealing with some 3,000 cases requiring monetary aid. "We're unique in that we work personally with each family or individual, helping them build a life. We're not the government, so we're not tied to mandates, statistics, and institutionalized criteria. We're free to help people in the way they need it."

The Presidential Award is being given to OneFamily for its effectiveness in marshaling volunteers, an area where the group is most successful. "We have people to work with all sorts of clients, and have different divisions covering all categories – for example, volunteers to work with kids who are bereaved, kids who are wounded, and kids whose parents were hurt in an attack."
Altogether, OneFamily has hundreds of volunteers, working with clients in their homes, and in four facilities around the country belonging to the organization.

OneFamily got its start on a fateful day in Israeli history, says Belzberg – August 9, 2001, the day of the Sbarro Jerusalem bombing. As it happened, it was also the day of a birthday party for Belzberg's daughter. "Obviously, we felt that we couldn't hold the party that day, so instead we decided to do something meaningful with the money that we were going to spend. We distributed it to the families of the bombing's victims," says Belzberg.
"It was a one-time thing, as far as we were concerned – until the next week, when there was another bomb and we decided to help the families of those victims as well." The whole thing just mushroomed, leading today to the huge organization it is today. "We do whatever it takes to help a family member in need," says Belzberg.
"OneFamily takes it one step further, going above and beyond for our extended family, the Jewish people in our community who have been affected by terrorism."