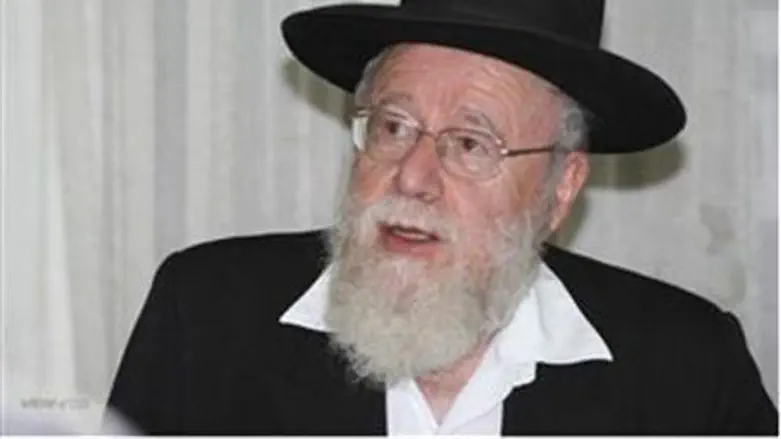 Rabbi Dov Lior
Israel news photo: Arutz Sheva
Nachi Eyal, chairman of the Legal Forum for the Land of Israel, sent a letter on Monday to Attorney General Yehuda Weinstein, asking that he investigate the arrest and questioning of Rabbi Dov Lior of Kiryat Arba. In the letter, Eyal demands that Weinstein investigate who gave the order to arrest Rabbi Lior.
"The arrest of Rabbi Dov Lior in broad daylight was unwise and unjust," Eyal writes in the letter. "He is a public figure, leader of a large population, and he was led like an attacker into custody and interrogated. This is not worthy of the Jewish State of Israel."
Eyal adds, "Unfortunately, the feeling is that if it were a kadi [a Muslim judge –ed.] or a priest, or perhaps even a university professor, the police and Justice Department would not have been in such a hurry to arrest the man on a city street for questioning. In my humble opinion, if the police had called to set up a meeting with Rabbi Lior in his home, he would have had no problem with being questioned."
He notes that "Unfortunately, those who made the decision brought forth an expansion of the rift between a large population which is loyal to the State and the State's law enforcement. In the present reality of law enforcement, it cannot be explained to thousands of students why the police stopped an 80-year-old rabbi on a city street."
Eyal, who writes that he "regrets" the decision to arrest Rabbi Lior in this manner, calls on the Attorney General "to do something to dress the wound, talk to the people who feel hurt or at least prevent mishaps like this from happening in the future. Law enforcement is not examined only by its ability to enforce decisions taken without regard for society; it is examined in its ability to enforce the law with wisdom and justice, without fear and without bias."
Finally, Eyal asks that Weinstein investigate who gave the arrest order and whether other alternatives to investigate the Rabbi were considered.
"I would ask you to examine who decided and how the decision was made to stop Rabbi Lior on a city street and harm the general public," he writes, adding that an investigation should be made into "whether alternative action was taken to address the issue without having to degrade an 80-year-old rabbi and arouse hard feelings among many of his students and those in the public who honor rabbis and would rather not see them being taken to a police station. Why were other alternatives not considered? It seems to me that the arrest of Rabbi Lior will not add glory to the Ministry of Justice and it would be most appropriate if the incident is examined carefully to prevent similar failures in future."
The arrest of Rabbi Lior, who was arrested as he was driving on the Gush Etzion tunnel road, caused rage among religious Zionist leaders who condemned the act. The arrest also resulted in protests in Jerusalem and Samaria.
Rabbi Lior's arrest is likely related to the endorsement he gave to the Torat Hamelech book, a book by Rabbi Yizhak Shapira and which discusses the halakhot of waging war and taking non-Jewish lives in battle.
In February, police issued an arrest warrant for Rabbi Lior on this issue. He refused to report for questioning, saying he was not obligated to appear before the police because the Torah was being put on trial.