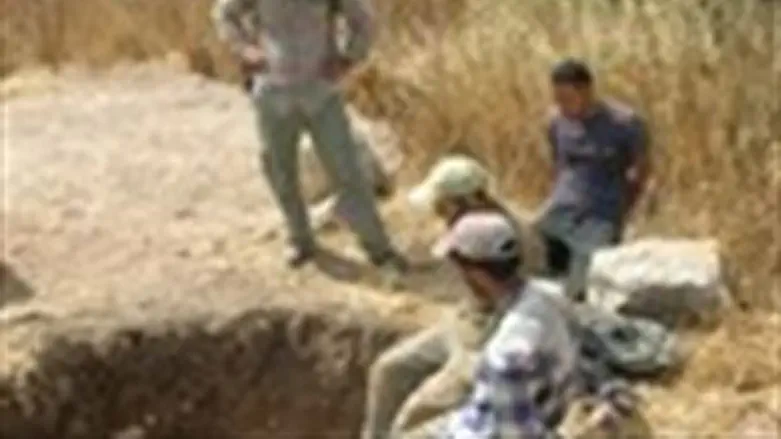 Captured Antiquities Thieves
INN
The Unit for the Prevention of Antiquities Theft in the Antiquities Authority has staged a successful operation in which Arab antiquities robbers were caught red-handed while digging at an archaeological site, where they were attempting to plunder archaeological findings.
The trio of thieves was apprehended after they had dug a pit 3 m deep while wreaking havoc on relics of the antiquities. The suspects were equipped with various digging implements and a sophisticated metal detector via with which they hoped to locate and steal ancient coins and other saleable items.
The action was taken following a severe wave of theft digs in the area of the Elah Valley near Beit Shemesh. According to archaeologist Alon Klein, who commanded the operation, the gang had been digging in at least three other sites that all contain Jewish artifacts from the 2nd Temple, up to 70 C.E. and Bar-Kochba Rebellion, ca. 132 C.E. periods.
These criminals had specialized in identifying and discovering these sites. "They came on foot from a distance of many kilometers [he did not elaborate, ed.] and remained in Israeli sovereign territory illegally, then fell upon the antiquities sites without mercy and caused terrible damage," according to Klein. "I am pleased that we managed to catch this gang and stop the vandalizing of our historical heritage. The robbers don't care at all about history, they are merely searching for the findings in order to sell them to the highest bidder on the market." 
Another form of vandalism is taking place constantly on the Temple Mount in Jerusalem, under control of the Arab Wakf, where a conscious attempt is being made to destroy any records of Jewish presence at the holy site.