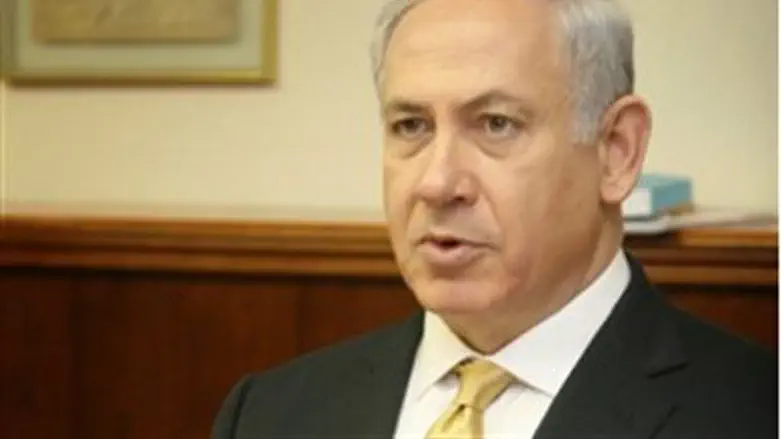 PM Binyamin Netanyahu
Israel news photo: Flash 90
Prime Minister Binyamin Netanyahu said Thursday that the Jewish state had the "right and obligation to protect its borders," signaling that the penetration of Israel's border by Syrians on May 15 will not be repeated.
"On May 15 we marked the the creation of [modern] Israel," Netanyahu told attendees of the International Hi-Tech Conference at the Jerusalem International Convention Center.
"We have witnessed the efforts of our enemies and violate our borders. Provocations by Iran, Syria, Hizbullah and Hamas. The same efforts are expected again in the coming days to challenge our sovereignty and undermine our country's borders," Netanyahu said.
"Israel, like every country in the world, has the right and obligation to guard its borders and protect them," added Netanyahu. "My instructions are clear: to act with restraint but also with the determination required in order to protect our citizens and our borders."
Netanyahu's statement comes as Arabs plan to mark June 5 as "Naksa Day" – the date on which Jerusalem was liberated by Israel in the 1967 Six Day War.
Arabs in Palestinian Authority administered areas expect to commemorate the day with riots. Foreign Arabs, especially in Syria and Lebanon, are expected to march on Israel's borders.
PA chairman Mahmoud Abbas, who has promised a third intifada if negotiations with Israel fail, said this year's 'Nakba Day' riots were only a 'rehearsal' for  the June 5 'Naksa Day."
Previously, during May 15's annual "Naqba Day" unrest, some 100 Syrian agitators illegally entered Israel's Golan region and clashed with security forces. Israel's security forces have been equipped with less-than-lethal weapons for Naksa Day.
Lebanon is reportedly closing its border with Israel on June 5 in hopes of avoiding an incident and the IDF has gone on alert.