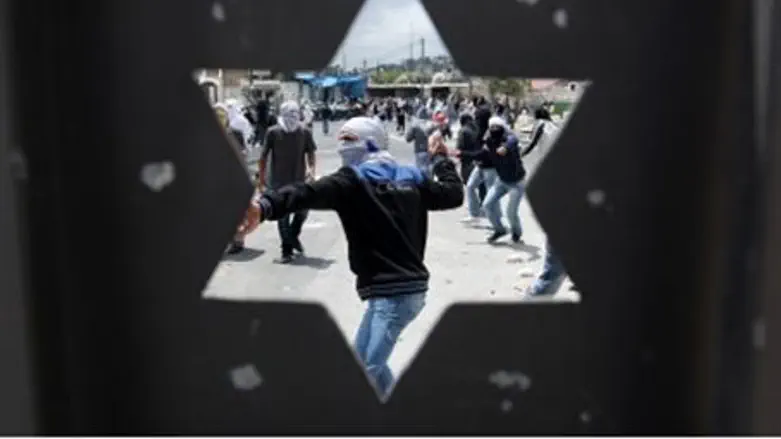 Riots at Ras El-Amoud, Jerusalem
Israel news photo: Flash 90
The Land of Israel lobby in the Knesset demands that the government and army take strong measures to protect the residents of Judea and Samaria in the face of next week's expected Arab riots and violence.
In an urgent letter to Prime Minister Binyamin Netanyahu and Defense Minister Ehud Barak, the lobby co-chairmen – Likud MK Ze'ev Elkin and National Union MK Dr. Aryeh Eldad – write that the army and police must take pro-active measures against the Arab rioters next Sunday, June 7.
Arabs in the Palestinian Authority-controlled areas expect to commemorate on that day, for the first time, Naksa Day – the date on which Jerusalem was liberated by Israel in the 1967 Six Day War.
The Choice
In general, Elkin and Eldad say, "if there is to be a choice, it is preferable that the daily routine of the rioting population be harmed, and not that of the victimized populace."
MKs Elkin and Eldad say that measures must be taken to ensure that the rioting and violence do not cross over from Arab-populated areas into Jewish locales. "In light of the need to keep to a minimum the number of casualties among the rioters," the lobby writes, "but also to deter and disperse them, a variety of non-lethal riot dispersal means must be readied, and both the forces and the civilian rapid response teams must be trained in their use."