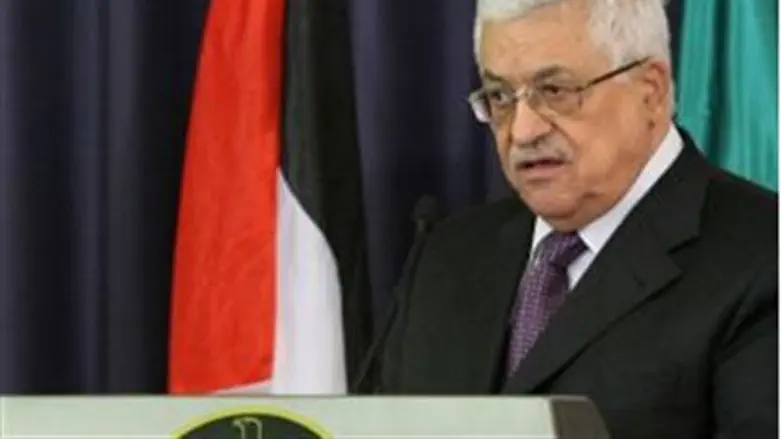 PA Chairman Mahmoud Abbas
Israel news photo: Flash 90
A senior advisor to Palestinian Authority Chairman Mahmoud Abbas has said that last month's 'Nakba Day' incidents along Israel's borders were simply a "rehearsal" for larger demonstrations planned for this Sunday to commemorate 'Naksa Day.'
'Naksa Day' is June 7 - the date on which the IDF liberated Jerusalem from Jordanian control during the 1967 Six Day War.
Arab websites recently called on PA Arabs to march in large numbers towards Jerusalem as "an oath of allegiance" to the city.
Sabri Saidam, deputy speaker of the Fatah Council and a former Palestinian Authority telecommunications minister, promised in an interview with The Huffington Post on Wednesday that "the 5th of June will not be an ordinary day."
Inter-PA Dispute re: Third Intifada
Saidam, who is currently visiting the United States as part of a State Department-sponsored conference on innovation, also predicted "a third intifada" if no breakthrough occurs in the peace talks between Israel and the PA. Abbas recently rejected the idea of a third intifada, saying the second intifada in 2000 was "disastrous" for the "Palestinian nation."
Saidam added that Hamas, which recently reconciled with Fatah and is to join a new PA unity government, "will not change its charter" calling for the destruction of Israel. He noted, however, that this was irrelevant because the terror group would not take part in any future peace talks with Israel.
Saidam also referred to Abbas' plans to turn to the United Nations General Assembly in September to recognize a Palestinian state, and said the PA has commitments from more than 150 of the 192 member states.