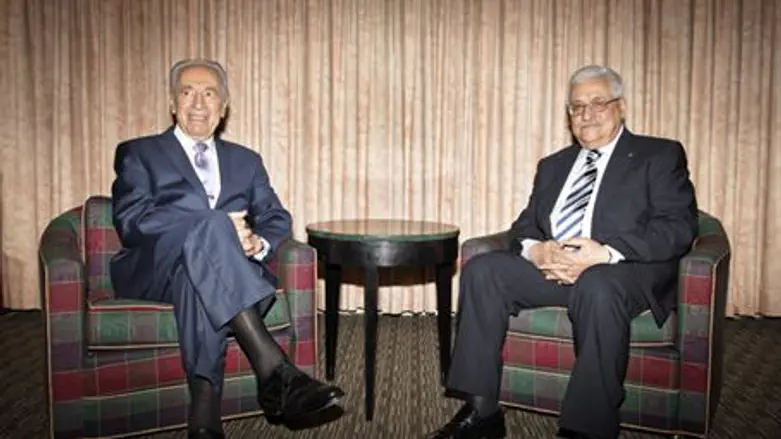 Peres, Abbas meet in 2010
Flash 90
President Shimon Peres held a clandestine meeting with Palestinian Authority Chairman Mahmoud Abbas recently in London, Maariv reported Friday.

According to the report, the two continue to exchange telephone calls and messages, and their close associates have held discussions as well.

Peres took the official position of refusing to respond to "rumors." However, a close associate of the president quoted in the report expressed dismay that the Peres-Abbas connection might be revealed.

"President Peres is the last Israeli who continues to enjoy a direct channel to the Palestinians, and it is highly unfortunate that this channel will be sealed due to being made public," he said. The president "is horrified by the leaks regarding the London meeting," the associate reported. He did not comment on the issue of whether Israel's president is advancing his own policies, rather than the elected government's.

Following his alleged meeting with Abbas, Peres proceeded to the United States, where he held a one-on-one meeting with U.S. President Barack Obama. Sources in both Israel and America have suggested that Obama's recent Middle East policy speech included ideas heard from Peres in that meeting.

Obama's mention of the "1967 lines" echoed statements made by Peres on Independence Day. Peres expressed support for the "1967 territory" and suggested that Israelis living in Judea and Samaria "return home" to pre-67 Israel.

The agenda of Peres' meeting with Abbas remains unknown. Whether Peres hoped to dissuade Abbas from his planned unilateral declaration of a state in September, or prevent the PA leader from embracing Hamas, these did not occur. Sources said it is more likely that he paved the way for Obama to think that he could tell Israel that the 1967 lines are to be the basis for discussion and that Jerusalme is on the negotiating table after the border issue. Both are anthema to Netanyahu.
Peres did slam Abbas' decision to reunite with Hamas – announced after the two reportedly met - as "a fatal mistake" that would doom the chances for a new Arab state led by the PA. He also expressed concern that it would lead to the continuation of rocket attacks – which would now threaten all of Israel.

It remains unclear if Peres met with Abbas independently, or with Prime Minister Binyamin Netanyahu's knowledge, let alone approval. While Israel's president, chosen by the Knesset and not the voters,  is intended to serve  ceremonial functions, Peres has continued his involvement in foreign policy as president and has made statements, possibly to promote events reflecting his own views and not those of the Likud-led, democratically elected government.