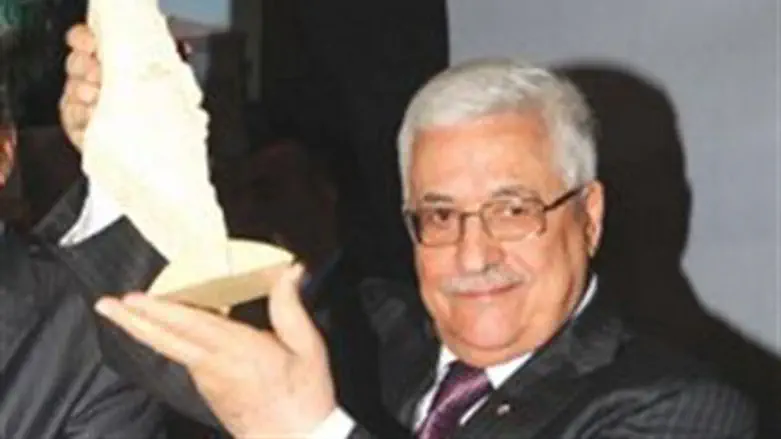 Abbas holding model of area he wants for Pal.
Israel news photo: palwatch.org
The Palestinian Authority leadership, while telling the world it supports peace talks with Israel, continues to say otherwise when talking to its people through its own television channels.
The Palestinian Media Watch research institute presented on its website on Tuesday a video which aired on PA television on May 14, as part of the official events in Ramallah and in Gaza to mark 'Nakba Day' - the day the Palestinian Authority mourns what they term the "catastrophe" of the creation of the State of Israel.
The video shows that in PA President Mahmoud Abbas' speech in Gaza on Nakba Day, delivered in his name by his advisor and representative, he denied that Jews have a history in the Land of Israel and claimed a fictitious 9000 year-old Palestinian history dating back to 7000 BCE. This history, said Abbas, made Palestinians "the owners of history."
Furthermore, Abbas taunted in his speech Israeli Prime Minister Binyamin Netanyahu, saying: "National reconciliation [between Hamas and Fatah] is required in order to face Israel and Netanyahu. We say to him [Netanyahu], when he claims - that they [Jews] have a historical right dating back to 3000 years BCE - we say that the nation of Palestine upon the land of Canaan had a 7000 year history BCE. This is the truth, which must be understood and we have to note it, in order to say: 'Netanyahu, you are incidental in history. We are the people of history. We are the owners of history.'"
The canard  that Palestinians are Canaanites was claimed by Palestinian spokeswoman Hanan Ashrawi tens of years ago in National Geographic and received with amusement. The Canaanites, as well as the other peoples mentioned in the Bible as living in the parts of the land of Israel, disappeared as distinguishable nations thousands of years ago. Except for the Jewish people, they are untraceable today.
PMW rightfully notes in its report that Abbas' so-called history is a brazen distortion of known facts. Judean and Israeli history in the Land of Israel, says the report, dates back thousands of years and is documented by ancient Jewish and non-Jewish sources.
"Palestinians", however, is a term that has only recently begun to be used to identify Arabs in the region, most of whom, as documented in the book From Time Immemorial by Harvard professor Joan Peters, came in the early twentieth century hoping to cash in on Zionist economic prosperity.
There is no reference to a Palestinian-Arab nation in antiquity as Abbas claims. PMW notes that Islamic sources as well do not refer to Palestinians. In fact, the holy Muslim book, the Quran, refers to the people of Israel and to the destruction of their Temple in Jerusalem.