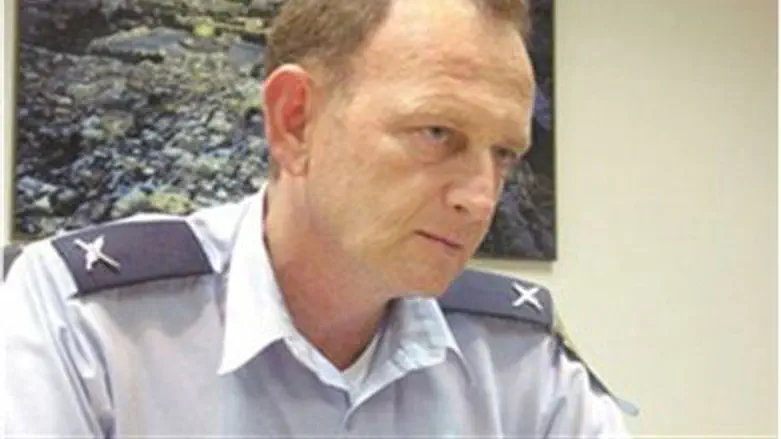 Maj-Gen Yohanan Locker
IDF Spokesman
Prime Minister Binyamin Netanyahu's military secretary, Maj.-Gen. Yohanan Locker, did not accompany Netanyahu on his trip to London last week, out of concern he might be arrested there, Channel 1 reported.
Locker is a permanent member of Netanyahu's entourage, but he was warned that since the British law on universal jurisdiction had not yet been changed, he might be detained upon landing in the UK over alleged war crimes that human rights groups have accused Israel of committing during Operation Cast Lead.
Locker - who accompanies Netanyahu everywhere he goes, inside Israel and out - opted out of the Prime Minister's entourage after he received a recommendation to do so. Locker was the chief of staff of the Israel Air Force in operation Cast Lead and would therefore be a prime target for
anti-Israeli "lawfare"
abroad. 
In 2009, Tzipi Livni reportedly canceled a trip to England out of similar concerns. Livni was foreign minister during Cast Lead.
British law allows private citizens to secure arrest warrants for visiting foreign officials whom they accuse of war crimes or crimes against humanity. Pro-Hamas activists have been trying to use this law to harass Israeli officials who travel to London.
The British government under Prime Minister David Cameron has begun to enact legislation to curb 
British magistrates' powers of "universal jurisdiction,"
 making it impossible for a private British citizen to have a foreign official arrested without government cooperation. An amendment to this effect was approved by the House of Commons in April and has been sent to the House of Lords for final approval.