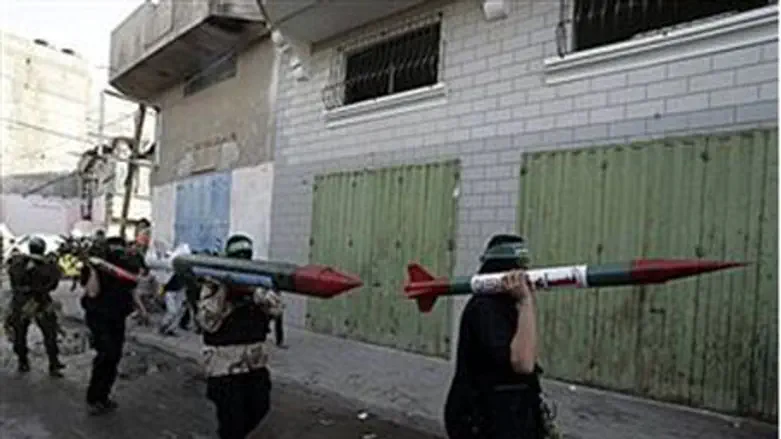 Hamas terrorists
Israel news photo: Flash 90
No matter how you look at it, the brewing unity deal between Hamas and Fatah is not a positive development for Israel – but it's a reality Israel will apparently have to deal with, says Mideast expert Professor Efraim Inbar, Director of Bar-Ilan University's Begin-Sadat (BESA) Center for Strategic Studies. "It's a deal that makes Hamas stronger, which of course is bad for Israel."

On Friday, Egypt, which brokered the deal, invited officials of Hamas and Fatah to Cairo next week for an official signing of the deal, which would see elections held in Palestinian Authority-controlled areas next year. Egypt has been very active in pushing the two terror groups to reunite, after they split four years ago when Hamas booted Fatah out of Gaza, installing its own figurehead as the ruler of Gaza.

While Egypt has its own interests for pushing the deal – such as seeking to maintain its leadership of the Arab world  - in the final analysis, it is Hamas that decided it was time for a limited reconciliation with Fatah. The main reason, said Inbar, is that the Gaza terror group is trying to stay one step ahead of regional developments – namely the rapid deterioration of Bashar Assad's rule over Syria.
"They see their patron going down in flames, and they have decided they are going to try to stay one step ahead of history. Hamas wants to keep itself relevant, and with Assad quickly becoming irrelevant – in the sense that he is likely to fall at any time – Hamas is moving away from Syria."

Among the theories commentators have come up with to explain the sudden and unexpected announcement was part of a PA plan to ready itself for the much publicized UN General Assembly session in September, when PA chief Mahmoud Abbas is expected to ask the nations of the world to recognize a unilateral PA declaration of independence.
A unified PA, with the two major factions in the authority working together, would make a better impression on the West, the theory goes, and the agreement between the two terror groups is supposed to prove to the rest of the world that the PA is a serious political entity.

Inbar doesn't necessarily agree with that theory, though. "If anything, this agreement will make it harder for the PA to get Western support. Both the U.S. and the EU are very skeptical of Hamas' will or ability to work with Israel, and have said so. Hamas, for its part, has given mixed signals, but the overall consensus is that the terror group will remain adamant in its refusal to recognize Israel's right to exist, and is unlikely to even tone down its anti-Israel activities and rhetoric."
The desire to divorce its fate from Assad seems to be a more likely reason for Hamas to suddenly embrace a unity deal, Inbar says.

Israel, of course, has first-hand experience with Hamas terrorism, and numerous government officials, from Prime Minister Binyamin Netanyahu on down, have this week said that including Hamas in a PA government would be a clear signal from the PA that it was not interested in peace with Israel.
"It's not just Israel that feels this way, though," Inbar says. "Hamas is in clear violation of the Quartet's requirements, and unless Hamas is prepared to forgo it's raison d'etre of destroying Israel – which it is not – it's hard to see how the Quartet will be able to embrace a PA that is at least half controlled by Hamas. And there is no way Israel could work with such a government."

That assumes, of course, that the deal actually goes through, or that the two terror groups can continue working for any length of time. "As we know, there have been several attempts in the past to get the two terror groups working together, but they fell apart. The most well-known, of course, was the 2007 Mecca agreement – signed just months before the Hamas revolution in Gaza." Could such a thing happen in Ramallah, where Abbas still holds power? "It's far less likely," Inbar says. "Abbas isn't afraid of a Hamas takeover in Judea and Samaria because he knows who has his back – Israel. The IDF is in the area every night, cleaning up. If anything, Abbas knows Israel will be working even harder if Hamas has a presence in Judea and Samaria."