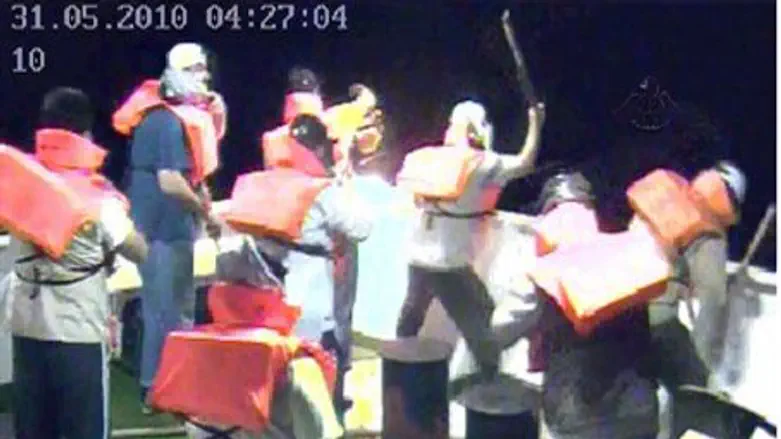 Terrorists on the Mavi Marmara
Israel news photo: Flash 90
A new Gaza-bound flotilla originally set for May by the terror-linked Turkish IHH organization has been postponed.
The new sailing date will not be scheduled until after the June 12 parliamentary elections, according to a statement by IHH officials. The Islamist group owns and operates the Mavi Marmara ship that last year was involved in clashes between terror activists and Israeli naval commandos.
IHH said it wanted to avoid controversy over the flotilla, which is illegal under Israeli law, and which it feared could affect the Turkish vote. Although IHH is not linked to the government, the group has close ties with Ankara officials but maintains it does not need authorization to sail to Gaza.
Apparently, however, there are other reasons for the delay as well. Pro-Palestinian Authority activists have quietly cited difficulty in recruiting volunteers for the trip.
A number of people appear to be concerned about getting involved in a confrontation with Israeli forces, according to Jerusalem sources. Nine of the IHH terror activists who attacked IDF naval commandos as they boarded the Mavi Marmara last May died as a result.
IHH has said it will sail with up to 150 people on the flotilla – but many of the activists who originally signed up for the trip have since canceled upon learning they could be arrested in Israel.
Turkish organizers have also not been as successful in raising funds for the operation, according to the Associated Press. Those who own ships also refuse to donate or loan them to the cause, fearing they will be confiscated by Israel, further complicating the project, since activists are forced to buy vessels as well.
Israel Ready for Action
Israeli authorities have said they are ready for whatever the IHH decides to do. Military officials say they have drilled their teams for weeks with various tactics aimed at avoiding casualties.
The maritime blockade of Gaza, designed to prevent the import of arms with which terrorists can attack Israeli civilians and soldiers, will continue to be enforced.
The Foreign Ministry, meanwhile, continues to stress that so-called "humanitarian aid" sent by flotilla is unnecessary. "People coming by sea are doing it as a provocation and are looking for violent confrontation," said ministry spokesman Yigal Palmor. "We call on all relevant parties to show responsibility and to shun violence. There is no reason to try and circumvent existing channels," he said.
Palmor added that aid to Gaza is provided to the region through the Palestinian Authority itself, and by the United Nations and international groups via the land crossings.