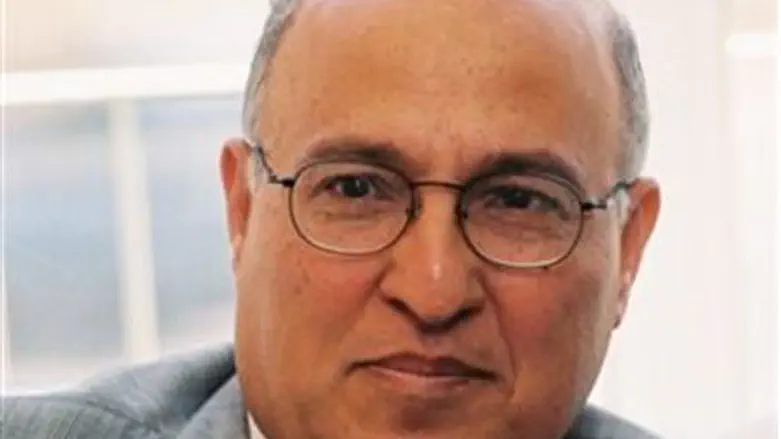 Nabil Shaath
Israel News photo: Flash 90
Nabil Shaath, a member of the Central Committee of the Fatah party led by Palestinian Authority President Mahmoud Abbas, said on Thursday that Fatah members will be a part of the next flotilla to Gaza.
During in an interview with the A-Shams radio station broadcasting from Nazareth, Shaath said that Fatah supports all popular or international activities aimed at lifting the siege being imposed on Gaza.
Shaath made ​​it clear during the interview that Fatah did not participate in the flotillas until now, but that it supported last May's flotilla.
He said that Abbas has given PA "citizenship"  to all those who participated in last year's flotilla. As to whether he himself will participate in the next flotilla, Shaath said that he would be honored to do so, but that it currently is not on the agenda.
The Turkish-based IHH terror group recently confirmed that the Mavi Marmara will serve as the flagship of the second flotilla, known as the "Freedom Flotilla 2".
According to the organizers, the new flotilla will attempt to take 4,000 anti-Israel activists from around the world on 20 ships to Gaza. IHH director Bulent Yaldrim has promised that this year's flotilla will be even bigger than last year's, and noted that it will probably happen around late June as he he is hoping to purchase an airplane to take part in the anti-Israel convoy campaign.
Last week, reports surfaced that Israel is considering letting the boats go through to Gaza under certain conditions, such as putting the boats through a security check by a third country to make sure they are not carrying weapons. This would deflate the media show aspect of the event.  Last year's flotilla was shown to bring outdated medicines and used goods, whlle Gazan markets are replete with new merchandise. 
In an attempt to stop the flotillla from setting sail, Israel's Ambassador to Turkey, Gaby Levy, had asked the Turkish government to stop it, warning that an attempt to deliver goods to Gaza outside existing channels would be considered a provocation. However, Turkish officials said in response that the flotilla is "not Ankara's concern."
Israel's Foreign Ministry has also been taking measures to stop this year's flotilla through contacts with other foreign governments, including Spain, Britain, Ireland and Sweden, who were asked to publish travel advisories warning their citizens against sailing to Gaza. An unconfirmed report said that Foreign Minister Avigdor Lieberman asked for German assistance in stopping this year's flotilla.
Last year's flotilla also included the Mavi Marmara, on which were many passengers affiliated with IHH.
When the ships refused to stop as they approached Gaza, IDF commandos boarded the vessels in order to turn them towards an Israeli port. The passengers on most boats complied; however, passengers aboard the Mavi Marmara attacked the soldiers with clubs and knives. The commandos were forced to open fire on their assailants, killing nine.
Shaath said during Thursday's interview that Fatah members and leaders will always participate in demonstrations against the Jewish communities in Judea and Samaria and that they will continue to struggle against what he termed Israel's "occupation."