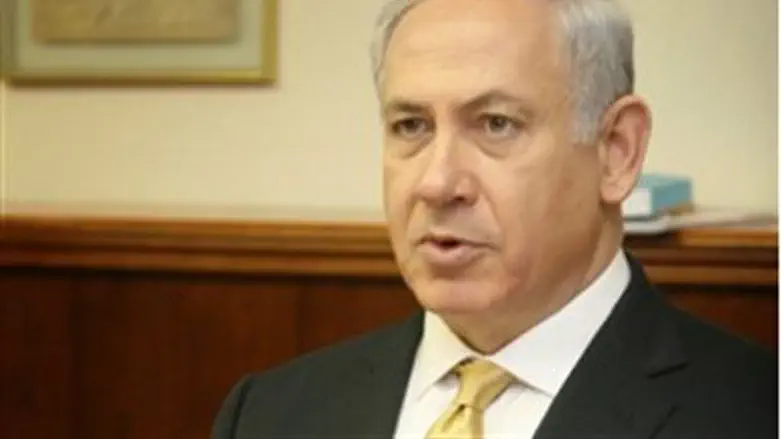 Netanyahu
Israel news photo: Flash 90
Prime Minister Binyamin Netanyahu has received an invitation to address the U.S. Congress five weeks from now.  He insists that despite international pressure for yet more concessions to the Palestinian Authority, he will, in his speech, "stand firm against those who try to dictate conditions that will leave us without security and without peace."
Speaking on Thursday night to fellow Likud party members in Tel Aviv in honor of the upcoming Passover holiday, Netanyahu said that his Washington speech will deal with the diplomatic process with the PA. "I will speak about the way to true peace," he said, "not a peace of ceremonies and lawns" – a sarcastic reference to past bombastic presidential ceremonies that took place on the White House lawn but did not provide peace.
"We have set two conditions for a permanent status agreement," Netanyahu said. "One is that there must be [Arab/PA] recognition of the State of Israel [as] the country of the Jewish Nation. Second are security arrangements. We have stood on these principles in the face of heavy pressure, and we will continue to do so. They are vital for our future."
Netanyahu said he will also speak about "the greatest threat to peace in the world and to the State of Israel – Iran's attempt to arm itself with nuclear weapons."
MK Yaakov Katz (Ketzaleh), who heads both the National Union party and Netanyahu's nationalist-camp opposition, called upon the Prime Minister not to display national weakness, and to present a diplomatic plan that will create genuine deterrence.
"In his previous major speech," Katz said, "at Bar Ilan University two years ago, Netanyahu totally backtracked on his pre-election promises to keep the Land of Israel in the hands of the Jewish nation and to increase construction in Judea and Samaria. There is no doubt that his declaration then about two states and his freeze on construction in Judea, Samaria and Jerusalem are central factors in the rise of terrorism and the weakening of the citizens' security."