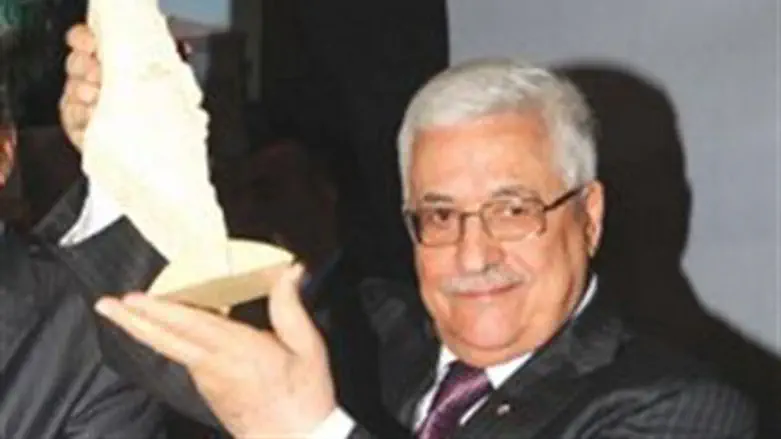 Abbas holding model of area he wants for Pal.
Israel news photo: palwatch.org
The United States needs to hasten its plan to revive Middle East talks before the Palestinian Authority moves to seek recognition as a state, a spokesman for PA chairman Mahmoud Abbas said on Wednesday.
"It's time for the American administration to move before September," Reuters quoted spokesman Nabil Abu Rdainah as saying.
"Talk about plans and new initiatives is not enough,"  Abu Rdainah said. "
 said osa
There should be an effective U.S. role and strong policy against settlements. The administration has started to realize the situation in the Mideast is dangerous," he added somewhat threateningly.
The statement follows closely on the heels of today's  
PA request to Western officials
for $5 billion dollars to launch a state with. This, despite US rejection of unilateral moves.
The United States on Tuesday blocked a
Quartet
move to impose on Israel a final status plan for the Palestinian Authority. Foreign media had reported that the initiative would re-start the "peace process."
Taken together, the two moves indicate that the PA is practicing brinkmanship, in effect saying "hold us back" and warning the US that if it does not browbeat Israel into making concessions, it will plow ahead with the plan to declare a PA state unilaterally.