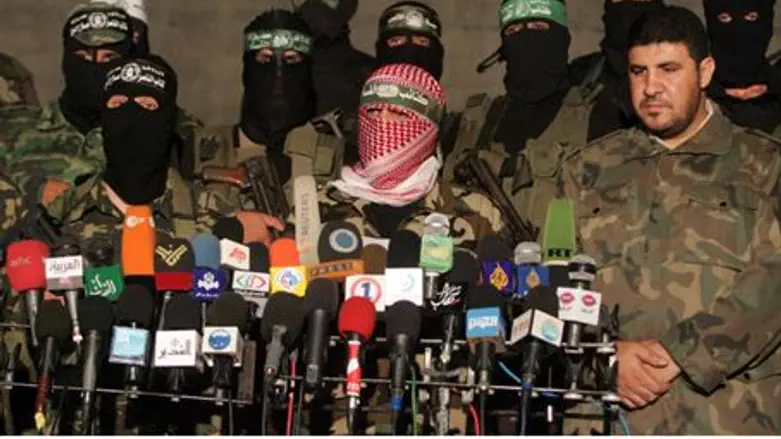 Hamas in Gaza
Israel news photo: Flash 90
The UN has given special recognition to an organization which supports the Hamas terrorist groups and which has been involved in organizing flotillas to Gaza, the Intelligence and Terrorism Information Center (ITIC) has reported.
The organization in question is the Free Palestine Movement (FPM), a California-based leftist organization whose stated mission, according to its website, is "to challenge Israeli policies and actions that deny Palestinians their human rights, and in particular the right of unfettered access to all of Palestine. We adhere to the principles of non-violence in direct actions that exercise Palestinian rights in defiance of restrictions imposed by Israeli authorities. We partner with other organizations in projects that are consistent with our mission statement and points of unity."
FPM is headed by Dr. Paul Larudee, an activist who in 2006 was arrested and deported from Israel after he entered the country under a false identity to work with Hamas and then went to Lebanon to assist Hizbullah during the Second Lebanon War.
Larudee broke the naval blockade on Gaza and entered the region in 2008, and also took part in the 2010 flotilla as well, having been on board the Sfendoni 8000 boat.
In 2009, Larudee received an award for his work from Hamas' Prime Minister in Gaza, Ismail Haniyeh.
According to the report by ITIC, Larudee received a letter from a United Nations committee which deals with the realization of Palestinian rights. The letter stated that his request for recognition (accreditation) had been granted. The letter also stated that FPM was recognized as an NGO acting as a "civil society organization" to promote the Palestinian cause.
ITIC added that following the UN recognition, FPM changed its logo, adding the sentence "A United Nations Accredited NGO". ITIC assessed the UN recognition as giving legitimacy to the projects carried out by FPM, especially the flotillas it organizes. The report added that the UN's recognition letter ended with offering congratulations on the organization's activities, which the letter claims are for the purpose of achieving "a just solution to the Palestinian problem."
ITIC also notes that Larudee has previously written an article in which he expressed support and understanding of the motives of suicide bombers. The report adds that Larudee spent large amounts of time in the Palestinian Authority-controlled areas of Judea and Samaria between 2002 and 2003, as part of the activities of the International Solidarity Movement (ISM), another extremist anti-Israel group which seeks to destroy Israel and with which Larudee works. The award from Hamas PM Haniyeh was given to Larudee in 2009 when he stayed in Gaza, notes the report.