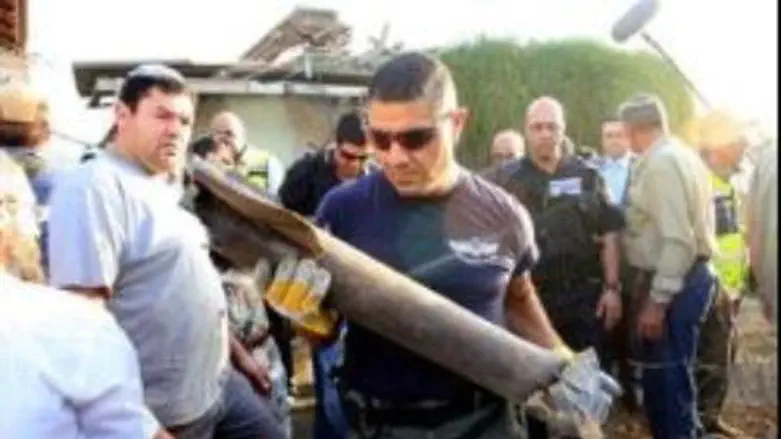 Kassam rocket
Israel news photo: Flash 90
Twelve mortar shells fired from northern Gaza landed in open areas in the Eshkol region. No injuries were reported.
Friday's barrage was the first mortar fire since Gaza terror groups declared a unilateral ceasefire, Thursday.
Israel Air Force fighter jets struck a location east of the Gaza city of Khan Yunis earlier Friday. Khan Yunis is regarded as a terror hub by Israeli security officials. The IDF confirmed hits on its intended target.
Sources in Gaza reported three people were killed and others were wounded in the air strike, bringing the death toll in Israel's retaliatory raids to 12. The casualties are believed to be members of a Hamas' Izz al-Din al-Qassam Brigades cell.
The IDF sorites on Gaza follow Thursday's anti-missile attack on an Israeli school bus that left a teenager critically wounded and barrage of over 45 rockets fired from Gaza into Israel's south.
IDF tanks also fired on two groups of armed terrorists approaching the Gaza security fence, reporting injuries among the terrorists in each case.
Israel's Iron Dome missile interception system also reportedly intercepted a second rocket fired from Gaza.
Thursday night terror groups in the Gaza Strip attempted to unilaterallly declared a ceasefire in an apparent attempt to stave off IDF retaliation.
Prime Minister Benjamin Netanyahu Friday morning from the Czech Republic, "Iron Dome's results are impressive - intercepting two missiles, one after the other, is an important success."
Netanyahu also said "We will act even if the defensive measures we have also offensive measures to protect Israeli citizens from rocket attacks from Gaza."
Netanyahu will return to Israel this afternoon