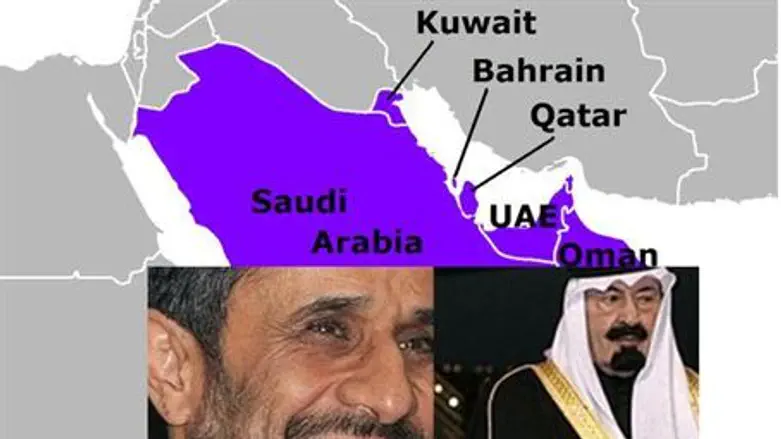 Ahmadinejad and Saudi King Abdullah
Israel news photo montage
The Arab world and Iran, a Persian nation, whipped out diplomatic swords Sunday and Monday, with Iran charging that Saudi Arabia is "occupying" Bahrain, while the Gulf States accused Iran of "meddling."
Senior Iranian legislator Alaeddin Boroujerdi leveled the "occupation" charge at Saudi Arabia for its having sent to Bahrain more than 1,000 soldiers to help quell anti-government demonstrations, mostly by Shi'ite Muslims.
"Given the fact that Bahrain is an independent country and is a member of the Organization of the Islamic Conference and the United Nations, we consider the deployment of foreign forces in this country as occupation," he stated.
He was quoted by The Tehran Times as saying, "The massacre of the defenseless and unarmed people contravenes the Islamic and international laws."
Iran has warned the Saudi kingdom it is "playing with fire," while Kuwait clamed it has uncovered an Iranian spy ring. Last week, a Kuwaiti court sentenced three members of the ring to death.
The Gulf Cooperation Council's (GCC) six members stated on Sunday they are "deeply worried about continuing Iranian meddling" aimed at stirring up trouble to aid sedition in Kuwait and Bahrain. The GCC countries are Saudi Arabia, Bahrain, Kuwait, Oman, Qatar and the United Arab Emirates.
Responding to the charge of occupation, Saudi Arabia castigated for Iran making what it called a statement full of "void allegations and blatant offense against the Kingdom."
Iran has tried to draw the United States into the bitter war of words, charging that "Western and Zionist conspiracy" is aimed at "sowing discord between Islamic countries."
The oil-rich kingdom of Bahrain has allowed an opposition daily, which it shut down Saturday, to resume publication after it changed editors. The government accused the newspaper of publishing "fabricated news and photos" of the uprising that so far has claimed the lives of at least two dozen demonstrators.
Meanwhile, the United States is following uprisings in the region closely, with White House discussions on Libya and the Middle East leading to talk about Iran and the possible prospect of a war with Israel, The New York Times reported Sunday.
National security adviser Thomas E. Donilon was quoted as commenting that if the Arab world sees the Obama administration as failing to back up its declaration that Libyan dictator Muammar Gaddafi "must go," it could be seen as a sign that the United States would be equally weak in living up to its promise not to allow the Iran to obtain a nuclear weapon.
Journalist David E. Sanger wrote that behind every decision being made the United States on how much to back rebels in Muslim uprisings, "White House aides were performing a mostly silent calculation about whether the Iranians would benefit, or at least feel more breathing room."