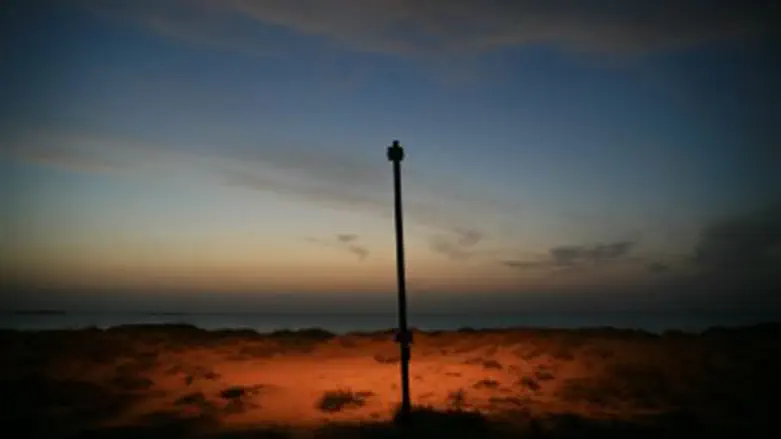 Lebanon-Israel border at Rosh Hanikra (file)
Israel news photo: Flash 90
In direct violation of the UN-mandated ceasefire resolution ending the Second Lebanon War, Hizbullah is building an army in southern Lebanon.
The IDF Spokesman announced today that the Hizbullah terrorist organization has built bases or mini-bases in as many as 270 civilian villages throughout southern Lebanon. 
In addition, Hizbullah continues to acquire munitions and strengthen itself in general, helped by funding and smuggling from Syria and Iran. Hizbullah's arsenal includes weapons that can reach Tel Aviv and its environs.

IDF intelligence says that since the end of the Second Lebanon War in 2006, Hizbullah has built as many as 550 bunkers in the southern Lebanon region. It has also built 300 underground facilities and 100 storage units for munitions including rockets, missiles and other weapons. A map depicting the situation can be seen here. 

Hizbullah is currently estimated to have an arsenal of more than 40,000 rockets. The IDF estimates that in the event of war, the enemy will be able to launch between 500 and 600 rockets at Israel every day.
The IDF Spokesman says that Hizbullah takes advantage of Lebanon's civilians by placing many of their terror centers near hospitals, schools and private homes.
One of the terrorist organization's main civilian centers for stockpiling weapons and ammunition is the village of Al Khiyam, where hundreds of rockets and mortar shells with varying ranges are stored. More than 100 Hizbullah terrorists operate in the village, including special forces trained for combat with IDF soldiers.
Hizbullah is thus trying to distort the balance of power in Lebanon and return to full, routine militant activity in southeast Lebanon, the IDF maintains, similar to the situation just prior to the war in 2006. "This is all in direct violation to UN Security Council Resolution 1701 of August 12, 2006, which ended the Second Lebanon War," the IDF statement concludes.