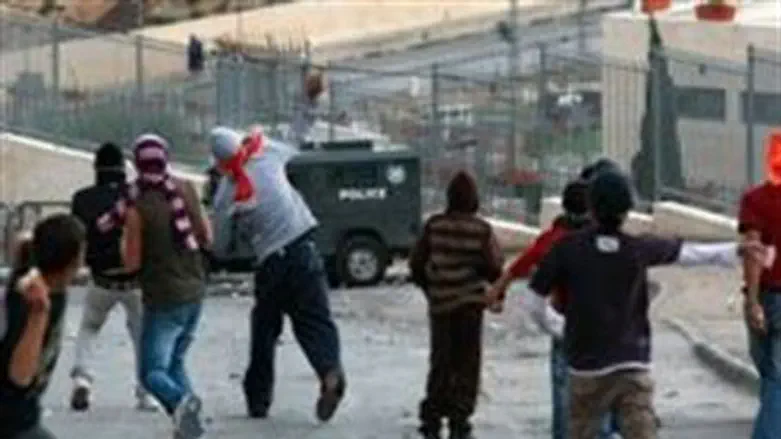 Issawiya Riot
Flash 90
Judge Rebecca Friedman-Feldman of Jerusalem Magistrate's Court sentenced Anas Hamadan to nine months in prison for rioting in Issawiya, in East Jerusalem, after the beginning of Operation Cast Lead in Gaza.
After a review of the evidence in his case, Hamdan, an Arab from Issawiya, was convicted of rioting, attempted aggravated assault of a police officer, and obstructing a police officer. 
Friedman-Feldman noted, "The defendant was convicted of serious crimes in this case; for participation in rioting and throwing stones at security forces. Courts have often determined to prosecute those who harm the rule of law and police duties. In addition, the defendant has a criminal record of similar offenses and served a prison sentence for them."
She said, "This offense is similar in character to previous offenses, ideologically motivated offenses... violent offenses that could have proven fatal. It seems that the passage of years since the defendant's previous conviction, even though the defendant is now older and has a family, did not alter the defendant's behavior when confronted with similar situations [to those in his past]. "
"In such circumstances," Friedman-Feldman decided, "the appropriate punishment is prison. Taking into account the defendant in custody has been in house arrest, the long period between crimes, and the fact that he was charged with attempting to assault the officer rather than successfully doing so, the defendant is to serve nine months in prison and six months' probation."
Issawiya is a particularly volatile Arab village in East Jerusalem. In 2005, an Arab resident was killed amidst riots that erupted when the Israel Police's Lavi Unit entered the area of Issawiya bordering Hebrew University on Mount Scopus to arrest a man who was seen breaking into a car. The village also erupted into violent riots shortly after Operation Cast Lead commenced in the closing days of 2008. In both instances the police used rubber bullets, stun grenades, and batons to quell the violence.
On February 23, 2011 two Arab residents of Issawiya were arrested by military border police on weapons charges.