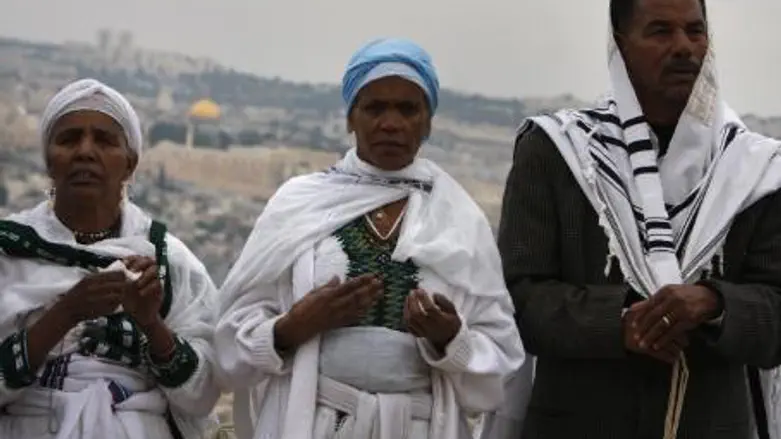 Ethiopian Jews in Jerusalem
Israel news photo: Flash 90
The Knesset has passed a law requiring government agencies and private companies to guarantee a "reasonable amount" of job openings for Ethiopians.
The new law is aimed at helping Ethiopian immigrants find work in areas where doors have been closed to them despite many instances where they have academic and professional qualifications. However, it does not specify a specific number of job openings to be reserved for Ethiopians.
The bill for equality in work was initiated by Likud Knesset Members Ofir Akunis and Tzion Fanian and Kadima MK Yaakov Edery. An existing law requires quality in hiring in the civil service, but the new law covers all national and local government agencies.
"This law was urgent…and corrects the injustice" and of discrimination that exists against Ethiopians, said Likud MK Danny Danon, chairman of the Immigration and Absorption Committee.
"We will follow implementation of the law and make sure that regional and local governments adhere to it," he added.
During committee debate on the bill several weeks ago, a government manpower official said that although public companies will apply the law, "it will be difficult to enforce it" and that its acceptance will be dependent on the good will of employers.
MK Danon said that the law is intended to make it difficulty for the government to justify discrimination and that the law is intended "to open the doors to Ethiopian immigrants."
The IDF has instituted an outreach course for Ethiopians and conducted a study showing they demonstrate strong patriotism and have a high rate of enlistment in the military.